In Phase 3 — which is set to start on June 11 — restaurants can open for indoor dining with physical distancing; gyms will be able to open with physical distancing and enhanced sanitation in place; and churches, cinemas and museums can open at 20% capacity with physical distancing in place.
Speaking at last night's [June 8] press briefing, Premier Burt said, "Last week I stated that Bermuda would move to Phase 3 – Moving to Normal, this week Thursday. In addition to the Expansion of Services in Phase 2, Phase 3 was stated to have the following: The reopening of public school buildings, and as the Minister of Education announced, public school buildings will not reopen this academic year. However, private schools may be open, if they wish.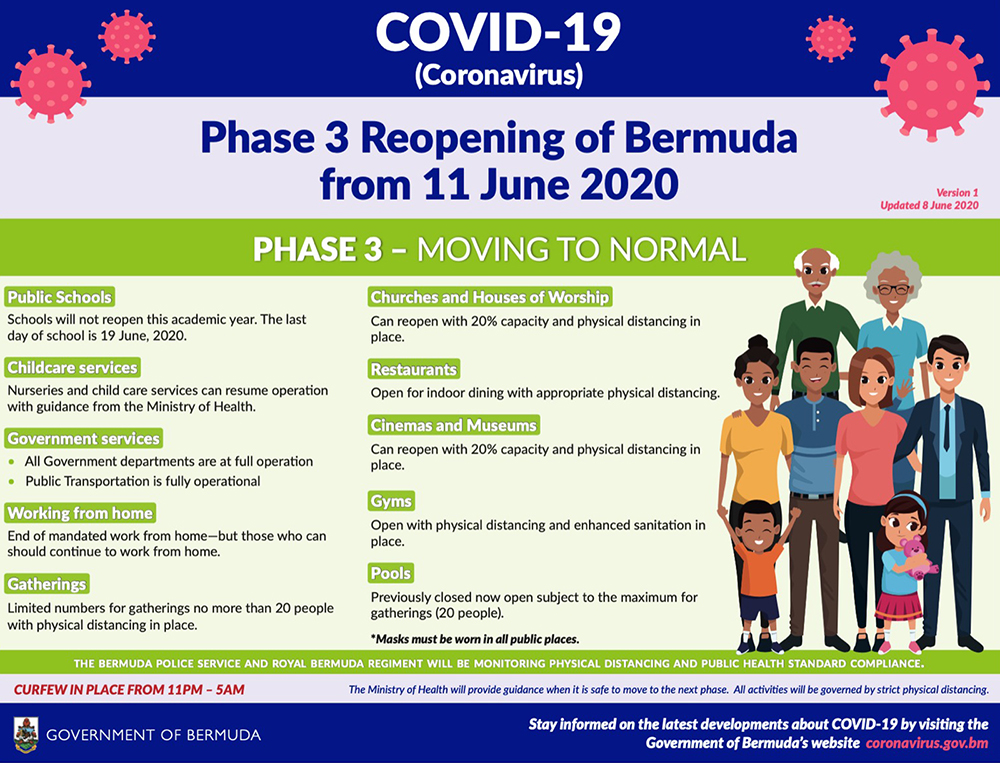 "The reintroduction of childcare services, according to the guidance from the Ministry of Health; the opening of government offices; the ending of mandated working from home, and the allowed opening of churches and houses of worship, and also, gyms.
"Additional items which have been added to Phase 3; are restaurants will be able to open for indoor dining with physical distancing being maintained and in place with limits; and also cinemas and museums, will be able to reopen with 20% capacity with physical distancing in place. These were items which were originally scheduled for Phase 4.
"The limits for gatherings will be adjusted from 10 to 20 persons. Additionally, pools, which were previously closed will be subject to the maximum limit of gathering for 20 persons and will also be allowed to be open.
"The final item which I'm sure that a lot of persons are concerned about is what about the curfew? The curfew hours will be sorted from 10pm to 6am, where they are currently right now, to 11pm to 5am."

As the island and world deals with the Covid-19 pandemic, we are doing our best to provide timely and accurate information, and you can find more information on the links below.
Read More About