[Updated] There will be a round-trip charter flight between the Azores to Bermuda today [July 21], with the flight set to depart Bermuda this afternoon.
The Azores Airlines/SATA flight is scheduled to arrive in Bermuda at around noon, and then be boarded for the return trip, leaving Bermuda at 1.40pm.
While exact numbers are not available, it is suggested there are about 20 people coming in on the flight, and around 60 people leaving on the flight.
Check-in for the return flight from Bermuda will open three hours before its scheduled departure.
Screenshot from the FlightAware tracking website taken at around 9.30am: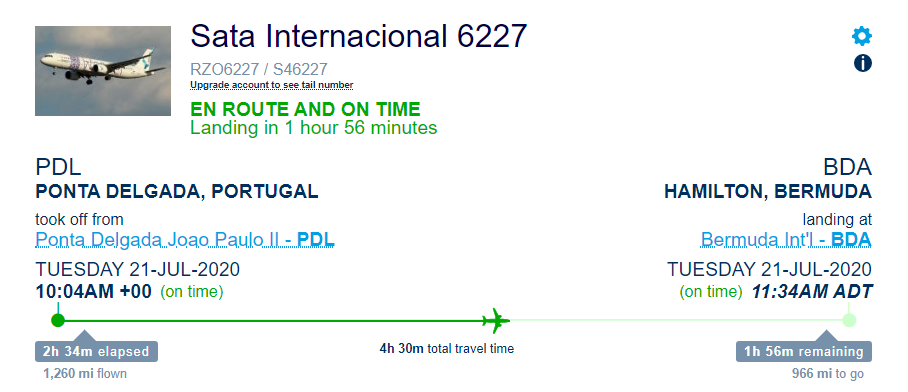 Andrea Moniz-DeSouza, the Honorary Consul of Portugal, posted on social media confirming that the flight will take place today.
She also posted, "We have been receiving queries from Portuguese nationals who will be leaving Bermuda, in relation to their rights relating to payment of their repatriation flights, vacation pay never received and unpaid salaries.
"While there is not anything that we at the Consulate can do in relation forcing employers to act in any manner, and we can only assist in these matters by directing people to the appropriate Bermuda Government Department, I would urge employers to be fair and appropriately deal with these matters, especially as the last few months have been difficult to everyone. Thank you in advance."
Update: The charter flight has arrived, photo courtesy of Skyport:
Read More About