There were 46 test results received today and none were positive for COVID-19, so the total of confirmed positive cases remains at 146, with 135 having recovered.
A Government spokesperson said, "Today there were 46 test results received by the Ministry of Health, and none were positive for COVID-19.
"Bermuda continues to have 146 total confirmed positive cases. Their status is as follows:
there are 2 active cases, of which
1 person is under active public health monitoring, and
1 person is hospitalized;
none is in critical care;
a total of 135 have recovered, and
the total deceased remains 9.
"The average age of all of our confirmed positive cases is 60 and the age range of all of our positive cases is from 18 to 101 years.
"The average age of all deceased cases is 74 and the age range is 57 to 91 years.
"The source of all local cases is as follows:
42 are Imported
85 are Local transmission, with known contact
16 are Local transmission with an unknown contact, and
3 are under investigation
"Bermuda's country status is "Local Transmission – Sporadic Cases". The seven-day average of our real time reproduction number is below 1.
Chart showing an overall look at recent test results; no new positive cases recorded since June 20th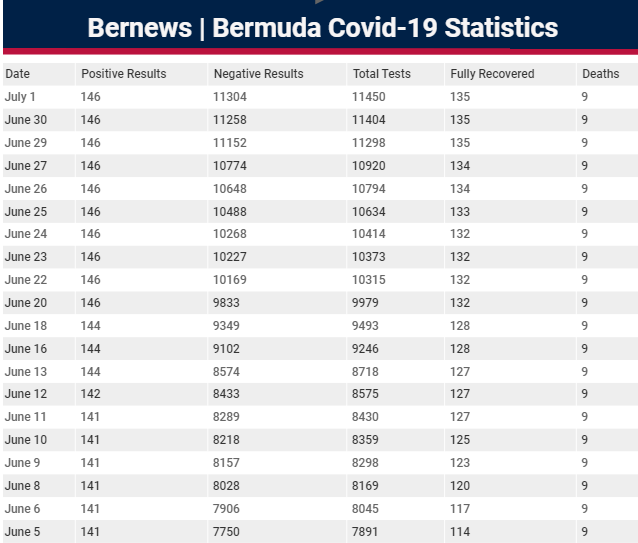 The Minister of Health Kim Wilson said, "As everyone is aware, Bermuda is receiving its first commercial flight tomorrow. The Government has taken great measures to protect the country, however, it will be more important than ever to wear our masks at all times, keep physically distant from others and wash our hands frequently. This is the time to practice these measures scrupulously."
The Chief Medical Officer, Dr. Cheryl Peek-Ball, said, "It is important to remind persons not to travel when ill with symptoms that could be due to COVID-19 or other outbreak-prone diseases. This applies equally to visitors and residents. In accordance with the Quarantine (Maritime and Air) Regulations 2017, s 4 (1), sick persons should not be permitted to board a conveyance travelling to Bermuda."

As the island and world deals with the Covid-19 pandemic, we are doing our best to provide timely and accurate information, and you can find more information on the links below.
Read More About