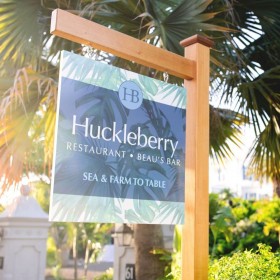 Huckleberry Restaurant will continue their community feeding initiative, with the restaurant planning to cook and deliver up to 1,000 meals per week through a new partnership with Christ Church Warwick.
A spokesperson said, "Huckleberry Restaurant announced today the continuation of their community feeding initiative.
"In an ongoing commitment to support the community Huckleberry will cook and deliver up to 1,000 meals per week to those most in need through a new partnership with Christ Church Warwick. The program provides meals to the Eliza DoLittle Society, in addition to directly handing out meals to families and individuals experiencing food insecurity."
Rob Bruni Restaurant GM said, "We responded to an appeal from Christ Church as there was a void left in their feeding program after previous community support ceased at the end of May. The church managed to continue the program through June and most of July with the support of volunteers, but, as demand to otherwise utilize the church space increased and volunteers began to return to work, that approach proved increasingly unsustainable."
"Huckleberry Restaurant made an early decision to support community feeding initiatives with the onset of COVID-19 by supporting the Matilda Smith nursing home, following an appeal from The Bermuda Emergency Fund in April. That initial effort led Huckleberry owners to make a donation of over $30,000 in meals for May and early June, distributed to various programs in conjunction with the Third Sector Coordinated Crisis Response Effort.
"The latest feeding initiative is being funded through a combination of fundraising efforts. The church is actively canvassing for corporate donors to enhance the support they are already receiving. Huckleberry Restaurant is also donating to the program through a $5,000 gift from their owners, the contribution of fresh produce from their orchards and gardens, and by donating staff hours and kitchen facilities.
Mr. Bruni further commented, "We are actively working to raise funds to make this feeding initiative sustainable in the long term, especially as food insecurity increases in the wake of the pandemic. To support our efforts, a new feature has been added to our online store at HuckleberryBDA.com to enable donations at the time of purchase; 100% of these funds will directly support the feeding initiative."
"Those wishing to contribute or support the feeding initiative are encouraged to make donations via Christ Church Warwick, online with their purchase at HuckleberryBDA.com, or by contacting Huckleberry Restaurant directly at communitysupport@HucklberryBDA.com"
Read More About