Bermudian author Mr. Kirkland Hamill will be hosting a live webinar on Wednesday, August 19th, to speak about his recently released book Filthy Beasts – a book about family, addiction, and recovery.
A spokesperson said, "Solstice, a holistic wellness centre, today announced that Bermudian author Mr. Kirkland Hamill will be hosting a live webinar next week August 19th 1:00pm -2:00pm on his recently released book Filthy Beasts.
"Registration for the webinar is obtained by emailing gordon@circle.bm.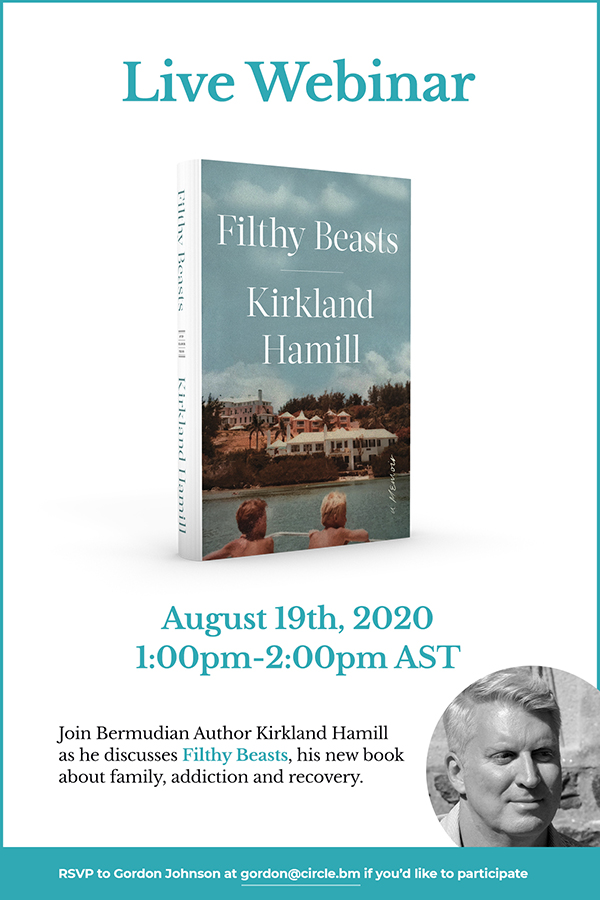 "The New York Times recently wrote the following in their review of Filthy Beasts: "Born working class in Bermuda, Hamill's mother was an exceptionally beautiful and childlike woman. Over 61 years, two marriages, and two countries, through alcoholism and megalomania, she nearly destroyed her children. Wendy watched them fend for themselves through the bottom of a highball. But Hamill's memoir is about survival — and recovery: of his identity, memories, and compassion for his mother. The collateral damage of a home with an alcoholic parent floats to the top. Hamill knew that "no one is coming to save us. I realized that I was increasingly living in a world in which I had no choice but to heal myself."
Mr. Hamill stated "I am delighted to be offering this webinar with Solstice – my Bermuda community is very special to me – embracing my joy and pain. I know today that I am not alone and there are many of us who grow up with an alcoholic parent – for me and my brothers it was my mother and my book is about my journey to recovery. I hope you get an opportunity to read my book before the webinar and I would like to thank the Bermuda Bookstore and Bookmart for having it in stock ".
Solstice owner Ms. Kelly Maderios stated, "We are delighted that Kirkland has offered to speak about Filthy Beasts – a Bermudian story about family, addiction, and recovery. This is a story that reminds us that many individuals, families, and community experience the impact of addiction, and with understanding, guidance, and support we can heal together".
"Solstice offers comprehensive psychological and psychiatric assessment and a range of evidence-based therapies and interventions to children, adolescents, adults and families, utilizes an integrative clinical practice model. Our team of experienced masters and doctoral-level clinicians are trained in a broad range of therapeutic approaches and will tailor interventions to our clients unique needs and circumstances, often integrating techniques from different therapies to achieve the optimum results.
"To learn more please visit www.solstice.bm."

Read More About
Category: All, Entertainment