News that Troy Anderson was officially welcomed to the Bermuda Weather Service as a full Meteorological Forecaster, Zeiko Lewis scored twice and was named Man of the Match and USL Player of the Week, 12 students received Bermuda Public Services Union education awards, and the Hasso Plattner Foundation in Germany donated over $580,000 for laptops were all some of the positive news stories from the past week.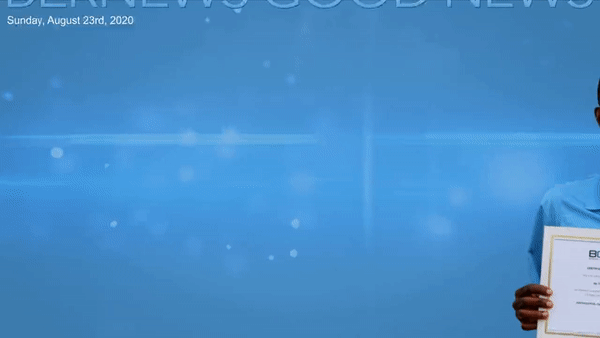 In additional good news, Nahki Wells scored a hat trick for Bristol City, Milan Butterfield has joined Chesterfield FC, with the club saying "he's a player who has massive potential," Cody Rego won the Junior/AO Jumper Low Class and Child/Adult Jumper Class in New York, Scott Barnes won the SKUSA Nationals G1 Pro Class, and J'nai Butterfield-Steede scored for Kendal Town Football Club.
Other good news stories included Conyers donating $15,000 in support of the Each One Reach One Back to School campaign run by Gina Spence Productions, Harmony Seymour, Melissa Weeks, and Alay Burgess-Rocket being named the first, second, and third place winners of the Emancipation Youth Creativity Competition, and Callahj Simons, Dominique Brown, and Andrea McKey being inducted into the International Martial Arts Hall Of Fame.
We also posted various community photo galleries, including coverage of the DofE and BNT Conservation Project, First and Premier Division cricket action, and the Craig Bean Tennis Championships.
In an effort to highlight some of positive news happening in our community, we supplement our standard morning and evening email newsletters with a special Sunday "Good News" email newsletter edition, and also produce a highlight video and article which strictly focuses on the positive news about Bermuda and Bermudians from the past week. You can sign up to have the free newsletter delivered via email here, and/or access the links below.
In addition, for those who like positive news, please feel free to visit our sister site ForeverBermuda.com, which seeks to showcase uplifting Bermuda news and visitor related services, or BermudaCovers.com, which offers an array of free Facebook and social media cover images, graphic designs and videos to assist you in showing off your Bermudian pride on social media!
Links to some of the 'good news' from the past week are below:

Read More About