Bermuda Youth Connect will be holding a Pre-Election Youth Forum tonight [Sept 22] which will feature two of the candidates from all three political parties, for a total of six candidates, and be available to watch online.
A spokesperson said, "The Pre-Election Youth Forum will be a perfect blend of debate and discussion. Topics to be addressed include social and economic issues, ranging from youth unemployment and education reform to mental health and cannabis legalization.
"The event will be moderated by Tierrai Tull and Halle Teart, who are a part of the Founding Members of Bermuda Youth Connect. Although this event is youth centered, all are encouraged to tune and listen to the candidates' plans for Bermuda.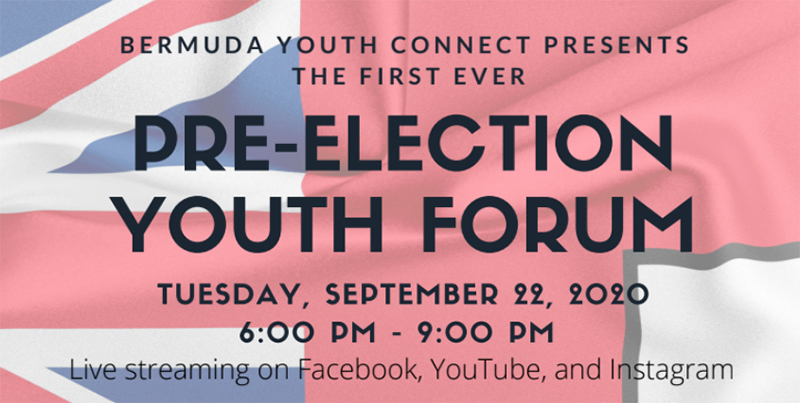 "We would like to mention Bermemes and express our sincere thanks for assisting us in putting together this necessary event together in such a short period of time. Also, special thanks to Women's Resource Center for allowing us to use their office as a Headquarters during the event.
"Bermuda Youth Connect is a non-partisan youth organization that is committed to increasing youth political participation and bridging the gap between the youth of Bermuda and our leaders. We think that it is important to give young people a platform and encourage them to be involved in the political conversation. Our voice needs to be heard because we are the next generation. We are the future and the leaders of tomorrow. Founding members include Ajai Peets, Tierrai Tull, Halle Teart, and Veronica Swan De-Graff.
"We hope that this event will be a precursor to a National Debate, with all parties represented. It is our leaders' responsibility to provide citizens with adequate information from which they may make an informed decision at the polls on October 1st.
"Not only does a representative debate allow for citizens to be knowledgeable of where each party stands on each respective issue, but also fosters the environment for a robust democracy."
At this time, candidates scheduled to part include the FDM's Gavin Smith and Desmond Crockwell, the OBA's Daquan Scott and Dwayne Robinson, and the PLP's Tinee Furbert and Jason Hayward.
To watch the Pre-Election Youth Forum, visit YouTube or Facebook.

For comprehensive coverage of the 2020 Bermuda General Election and past elections, you can find more information and statistics on the links below.

Read More About