Bliss Women will host a women's health and wellness webinar on their YouTube channel on Thursday, November 12th from 3:00pm to 4:00pm.
A spokesperson said, "While the COVID-19 pandemic has limited us to virtual gatherings, we have decided to bring bliss directly to you! This webinar event will highlight the importance of maintaining your wellbeing, and discuss ways you can overcome unhealthy beliefs to still achieve your goals in the course of the pandemic period.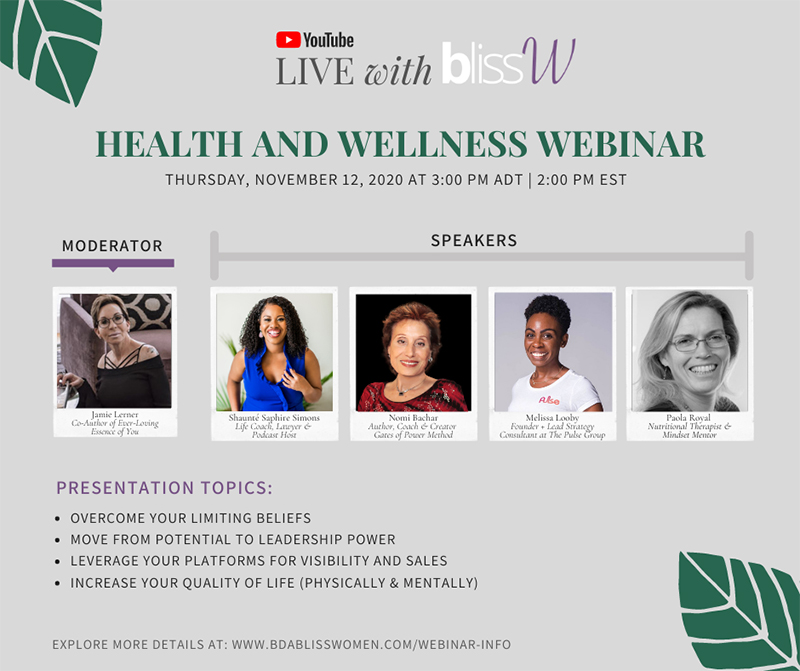 "The leading experts will include:
Paola Royal, Nutritional Therapist & Mindset Mentor
Shaunté Saphire Simons, Life Coach, Lawyer & Podcast Host
Nomi Bachar, Coach, Author, Creator, Gates of Power Method
Melissa Looby, Founder & Lead Strategy Consultant at The Pulse Group
"Around this time last year, we gathered at the North Street Citadel Salvation Army for Bliss Women's Symposium to discuss community health. We planned to have an in-person event this year, but the COVID-19 pandemic quickly changed what we had planned, said Taja Fox, Founder of Bliss Women.
"We could not allow the pandemic to stop us from giving back to the community so we decided to put our Give Back initiative into action through this webinar event."
"The public is encouraged to donate to one of the selected charities in support of the FREE webinar Bliss Women is offering to the community. Those who want to be recognized for their contributions will receive a special feature on Bliss Women's website and a "Thank You" card for their contribution."
Mrs. Fox states: "I want to encourage anyone who can, to donate to the list of charities our speakers and moderator selected to receive the support they deserve for their ongoing efforts throughout the year."
"Charities are: Tomorrow's Voices, The Empowerment Collective, Centre Against Abuse, St. Jude, and The Greater Chicago Food Depository.
"During the webinar, experts will cover:
How to overcome your limiting beliefs
Tips to move from potential to leadership power
How to leverage your platforms from visibility and sales
Ways to Increase your quality of life both physically and mentally
"To take part in supporting your community, and to learn more about the event visit here."
Read More About
Category: All