The Institute of Directors, Bermuda, is celebrating the success of three more delegates who have achieved the Diploma in Company Direction [Diploma] designation.
Rochelle Simons, Chairwoman, IoD Bermuda and lead for the Professional Development said: "The delegates all achieved Distinctions in their results and their success bring the total number of Bermuda Diploma holders to 26."
She added: "The Diploma is step 2 in the IoD Chartered Director programme. It is appropriate for experienced directors and senior leaders who have completed the Certificate in Company Direction and wish to continue their development with practical application and understanding of the knowledge and skills required at board level."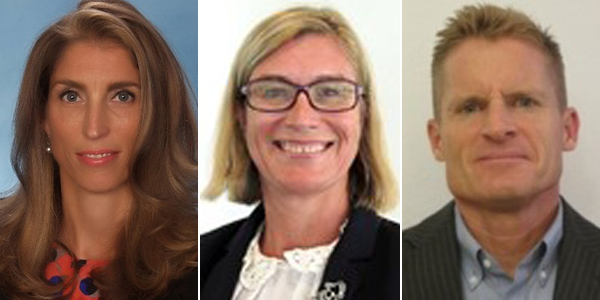 Cora Lee Starzomski, Chief Operating Officer, Kattegat Limited, commented: "I was very impressed with the virtual course offering and specifically the Diploma in Company Direction board simulation exercises. It allowed participants to hone the practical skills gained throughout the IoD learning experience in a safe environment.
"I also enjoyed working in groups with other likeminded peers from varied business backgrounds. This enhanced the overall learning experience and helped to broaden my strategic and governance knowledge base."
Jeffrey Ingelman, Chief Compliance Officer, Nephila Capital Ltd., said: "I began the IoD programme in January 2020 and focused on completing the Certificate in Company Direction [Certificate] and the Diploma in Company Direction [Diploma] within the calendar year.
"I was driven to do so in support of my current role and with a desire to remain current on best practice in governance and strategy. I found the strategy session the most interesting in the Certificate program, and the Diploma content brought everything together through very practical, real-world scenario analyses. I plan on pursuing the Chartered Director designation shortly."
Tanya Bule, Head of Wealth, Personal Banking & Marketing, HSBC, shared: "I am delighted to have attained the IoD Diploma qualification as it really brings together all the tenants of the Certificate of Company Direction and allows you to deploy it in a practical fashion.
"From a brand Bermuda perspective, it is critical that we continue to demonstrate this type of thought leadership and demonstrate that we have the skillset locally to support the growth of local and international business. I am particularly hopeful that as a result of the success of this certification in Bermuda we will start to see some increased race and gender diversity on some of the local and international company Boards."
Mrs. Simons continued: "Participation on this course enables directors to understand their board's role, its dynamic, power, influence and conflicts; gain knowledge of important topics: risk and crisis management, decision-making, mergers and acquisitions, and board performance; understand relevant techniques and tools to improve personal skills and that of the board; and evaluate and improve the performance of the board, its committees and individual directors."
The three-hour examination challenges each delegate to assume the role as a newly appointed non-executive director [NED] in the Diploma Case Study [DCS]. The NED receives a board packet from which a set of notes are prepared for the next board meeting that critically evaluates the current position and performance of the DCS; critically evaluates the challenges facing DCS, formulates possible strategic options, and recommends a way forward, paying attention to strategic options that have been identified, the impact on DCS and an outline of any additional information the board would need to review before making a decision.
Certificate in Company Direction
In addition to Diploma successes, the IoD is also celebrating the following CICD delegates who also achieved Distinction in November examinations.
Sophie Campeau, CPA, CA
Chief Financial Officer
Chartwell Industries Limited
Simon Giffen
Chief Investment & Governance Officer
Argus
Shanna Lespere, FCPA, FCMA
Chief Operating Officer
Bermuda Monetary Authority
Mrs. Simons added: "Theses delegate successes bring the total number of 2020 CICD graduates to 18, our largest success rate in a year since the first exams were offered in Bermuda in 2014. We also acknowledge successful delegates who do not wish to have their names published. We know that while our public records reflect 84 CICD holders in Bermuda, the success list is actually larger than what has been published."
"The IoD Bermuda is pleased to have been able to support resident delegates' professional aspirations through the challenges of 2020. We acknowledge delegates' commitment to up-leveling their contributions to personal, business and economic growth through our best practice programmes."
The IoD Bermuda 2021 Professional Development calendar is available for registration. To learn more visit www.iod.bm.
Read More About