The 'birdcage' at the Manor House Tower on Harrington Sound Road has been placed back in its original location after being removed due to issues sustained during Hurricane Paulette.
A spokesperson said, "Thursday morning saw an iconic Bermuda landmark placed back in its original location. Situated on Harrington Sound Road the 'birdcage' itself was compromised after Hurricane Paulette last year, and accordingly had to be removed, as the platform supporting it was in danger of collapsing.
"The tower and birdcage were part of the original design of the Manor House built for Clinton Ledyard Blair a wealthy New Jersey industrialist in the mid-1920s. The crab, lobster and bee in the design of the ironwork, famously depict the initials of the owner.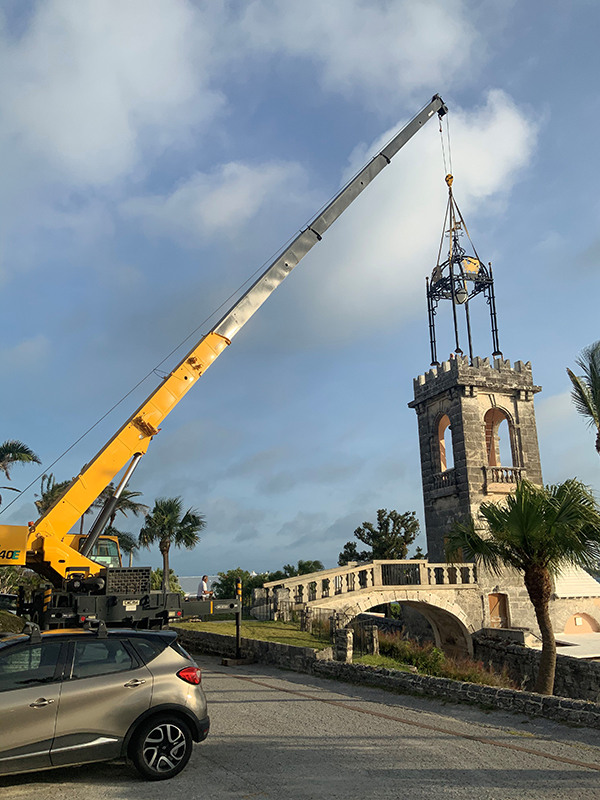 "Almost 100 years old, it is a much photographed Bermuda image and acknowledged as an important example of the work of architect Thomas Hastings.
"The property is now a condominium complex and comprises over 10 acres with 2 swimming pools, tennis courts, and sundecks leading directly to the waters of Harrington Sound. It also has its own boat storage area and small beach."
President of the Board of Manor House Properties, the Company which operates the condominium complex,  Anthony Montarsalo commented: "We are so delighted to see the tower now fully restored. It is a unique part of Bermuda's imagery and an integral part of our property.
"We are committed to our history as well as further developing the idea of a Manor House Lifestyle where our residents can enjoy beautiful natural spaces and enjoy the past as well as a vibrant future."
He highlighted other progressive ideas being considered for the property which could include electric charging stations for cars and even solar panels where appropriate, saying "we are genuinely committed to making our property the best it can be for the benefit of all who choose to live here".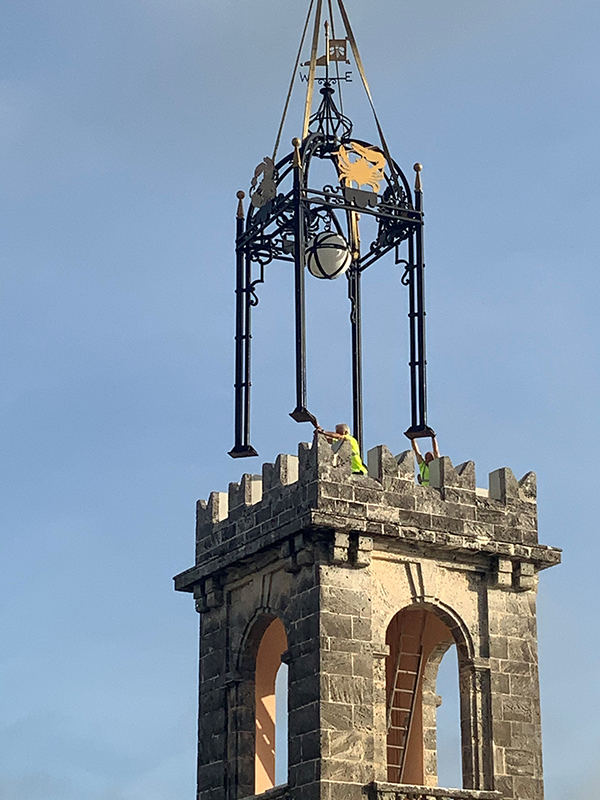 "The restoration has also seen the birdcage repainted and improved  focus lighting added, to further highlight the tower. It is part of the original features of the property which still includes its original lime kiln, and small cave," a spokesperson explained.
"It's good to see it back," commented Mr Montarsalo – "I am sure our residents and the wider Bermuda community will say, welcome back, we missed you. "
Mr Montarsalo also thanked all who helped on the project and D&J Construction whose crane completed the work this week.
Read More About