[Written by Stephen Wright]
This was supposed to be Tyler Christopher's breakthrough year in professional boxing.
It has been more than 12 months since the Birmingham-based Bermudian joined the paid ranks and several fights should have followed.
However, the Covid-19 pandemic has prevented Christopher from making his debut as a prize-fighter after having numerous bouts cancelled in the past few months.
The 25-year-old was due to fight at the Holte Suite at Villa Park, the home of English Premier League side Aston Villa, next weekend; however, he suffered more misfortune as the event was scrapped because of promotional issues.
He now hopes to make his bow at the H Suite in Edgbaston on October 9.
Bermuda boxer Tyler Christopher, centre, with his coach Anthony Hull, right, and strength and conditioning coach Vincent Guy at the DNA Boxing School of Excellence in Birmingham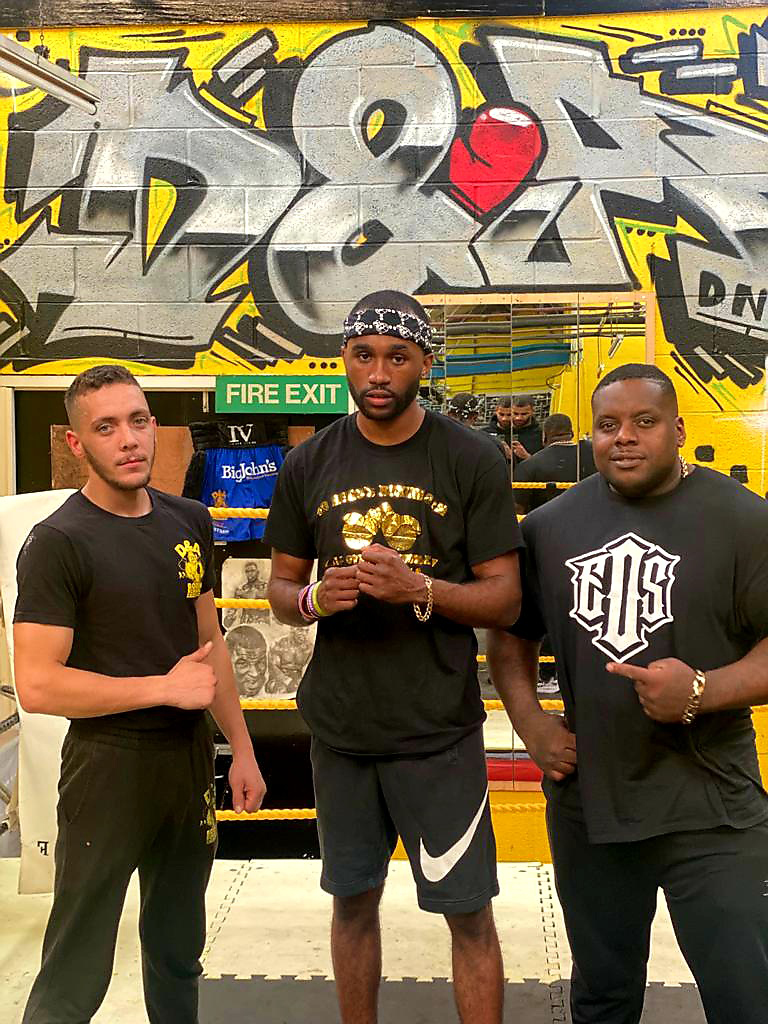 "It's discouraging because whenever I start getting ready to fight, something comes along and derails the date, which does deflate me," Christopher told Bernews.
"Hopefully, the next date doesn't fall through. I'm souped-up and ready for it.
"I trained throughout the pandemic, learning and going over combinations and different scenarios. I'm well prepared and need to put my skills to the test. I need to get the taste of pro boxing in my mouth."
Christopher has dedicated his life to the sport, training five days a week at the DNA Boxing School of Excellence in Stirchley since moving to the UK's "second city" about 18 months ago.
He has long maintained that boxing helped turn his life around after a short spell in prison five years ago and believes a change of environment was needed to achieve his full potential.
Swapping the subtropical climate of Bermuda for an urban metropolis appears to suit the southpaw, who is set to become a father for the first time, and has simplified his life to the point where he "eats, sleeps and breathes" boxing.
"I've grown tremendously both as a boxer and a man," said Christopher, who has adopted a vegan diet to boost his energy and recovery.
"I've got a daughter on the way, and I don't even socialise outside of the gym anymore.
"I had a lot of distractions in Bermuda and although I miss it, I know this is where I need to be.
"I never thought I'd leave Bermuda and step outside my comfort zone. I've got a lot of people to thank like Leo [Richardson], Mr [Allan] Rego, Pelon [Andrade], 'Goofy' [Jermal Woolridge], 'Mannix' [Kevin Simmons], and my coach, Anthony Hull, who has taken me to a whole new level.
"I don't see any weaknesses in my game; my coach has cleared them up."
Christopher, who has not fought in Bermuda since his final amateur outing in February 2019, said he is interested in joining local boxers Nikki Bascome and Andre Lambe on the fight card when pro boxing returns to the island on November 6 at The Fairmont Southampton.
"I'd love to show off what I've learned in Birmingham in front of my Bermudian fans," added Christopher, who won nine of his 12 amateur bouts.
"I'm in a group chat with Nikki and Andre, so we keep in touch. If the promoters [Epic Entertainment] want to bring me back, they can reach out to me and my team."
Hull, the director and head coach at DNA Boxing, said Christopher's progression has been remarkable and believes his displays will "blow people's minds" when his pro career begins.
He had envisioned Christopher fighting eight times this year before the Covid-19 pandemic and now intends to fast track the welterweight.
Boxer Tyler Christopher training in the UK
"It's been tough for Tyler [having to wait for his debut] during Covid," said Hull, a former boxer and mixed martial artist.
"You've got to be mentally strong, keep going, and continue to train hard while you wait for the day to come. A lot of people will be like, 'Forget this, I'm done.'
"I'm not saying we're in a rush, but we can't take baby steps now. Hopefully he can have two fights this year, five next year, and then we'll look to get him a Midland title shot. I can't wait to see him fight; I'm super confident Tyler will go far."
Known for his no-nonsense coaching style, Hull said Christopher has evolved into a student of the "sweet science" and has been equally impressed by his commitment and dedication as he has been by his technical development.
"When I first saw him, I thought, 'What's the big hype?'" Hull admits. "He came across as very lazy. There's no point in being a cheerleader as a coach because it's a dangerous sport and you can get hurt.
"I had to take him to one side and say, 'You could go far, you have the right attributes, but you need to pay attention.'
"One thing I'll say about him, he never complains. He's like a sponge, taking down notes, doing his homework, and practising what he learns.
"Commitment-wise, I can't fault him. People in Bermuda will have a massive surprise when they see him fight."

Read More About