Citing the rise in Covid cases, the Bermuda Veterinary Association has cancelled the dog parvovirus vaccination clinics.
A spokesperson said, "Sadly the BVA have decided that we have to cancel the vaccination clinics going forward. At least for the time being.
"With Covid numbers reaching such a high level and the increased risk especially mixing groups it seems especially important to reduce our risk factors. Obviously the BVA wish to continue vaccination efforts and so far we have had word from Endsmeet, Ettrick, Cedartree and Vetsmith to say that they will honor the booster price $25 for people to schedule these in and present their vaccine cards.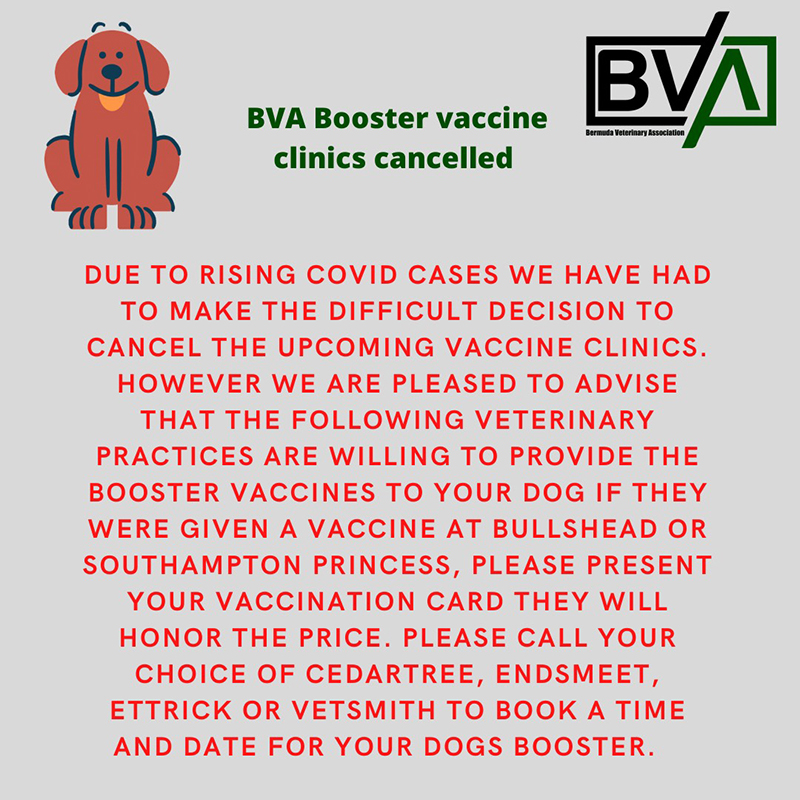 "These would be done in the same way ie quick questions and cursory look at each dog to make sure there are no obvious contradictions to vaccine. Should people wish to have full exam they should book as such.
"The BVA do not wish to risk causing a staffing shortage for the continued operation of each animal hospital nor do we want to risk the health and well-being of any of our generous volunteers. As medical professionals it is important to note the difficulties faced at KEMH and not do anything to increase the number of cases they are seeing.
"Please stay safe everyone and we will inform of any future events if and when they become possible."
Read More About
Category: All