[Updated] Neighbours came to the assistance of an elderly woman in St George's after three male suspects forced their way inside her residence and attempted to rob her.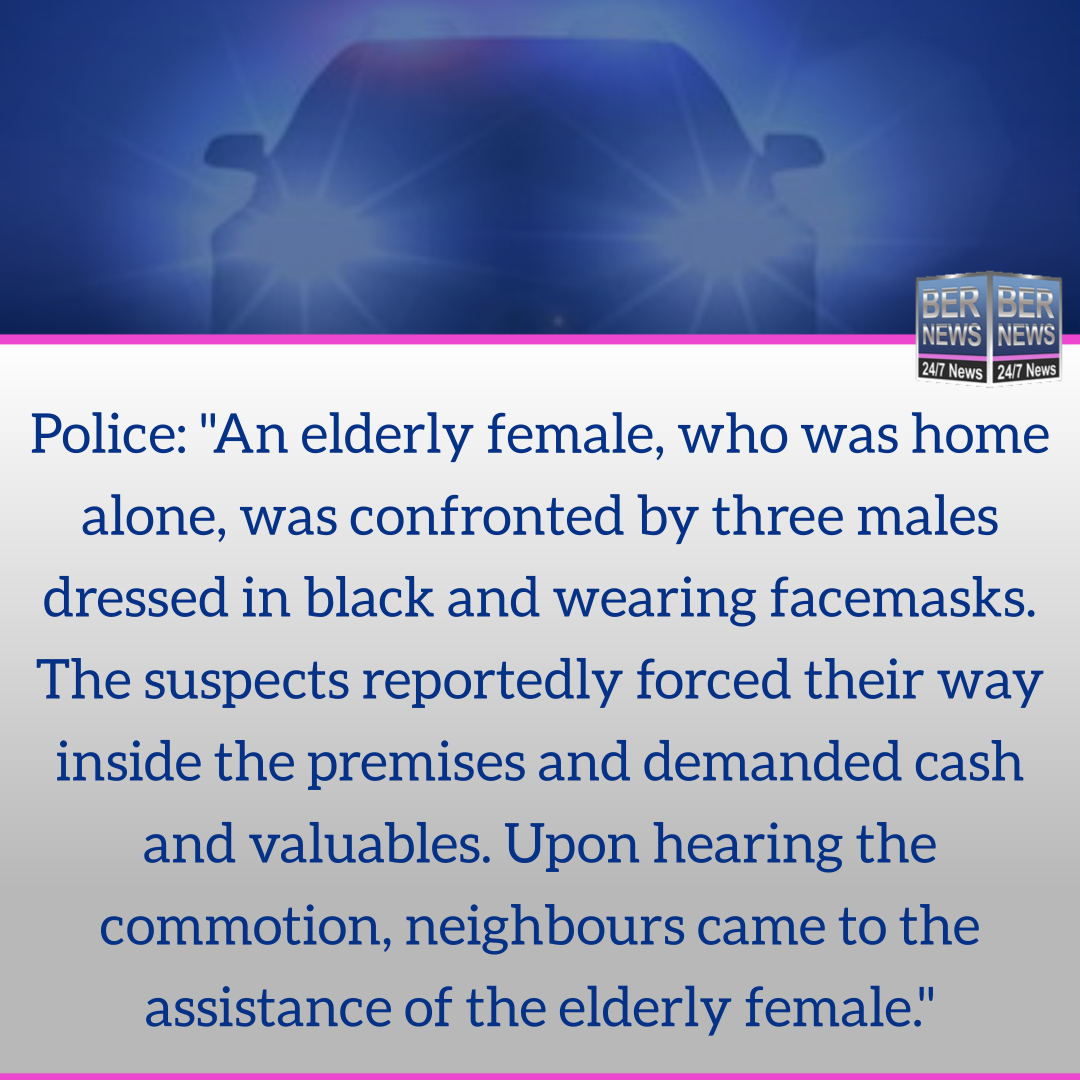 A police spokesperson said, "Shortly after 9:00 p.m. on Monday 15th November, 2021, police responded to reports of a disturbance at a residence on Queen Street in St. George.
"Upon arrival officers were informed an elderly female, who was home alone, was confronted by three males dressed in black and wearing facemasks.
"The suspects reportedly forced their way inside the premises and demanded cash and valuables.
"Upon hearing the commotion, neighbours came to the assistance of the elderly female.
"The suspects escaped east along nearby Chapel Lane. It is believed they left the area in a waiting car.
"Two of the suspects, one of whom wore white gloves, are described as slim built and approximately 6' tall. The third suspect was said to be medium built and approximately 5' 5" tall.
"The elderly victim was transported via ambulance to King Edward VII Memorial Hospital after she complained of pain to her upper body.
"The suspects fled the scene empty handed.
"An investigation into this matter has now commenced and anyone with information is asked to call Detective Chief Inspector, Sherwin Joseph, on 295-0011 or 211. You may also call 800-8477 the independent and confidential Crime Stoppers number."
Update 11.32am: The Minister of National Security, Renee Ming joins the community in expressing her "shock and outrage" following last night's home invasion of one of Bermuda's seniors.
Minister Ming said, "As this investigation gets underway, I am urging anyone living in the area, who may know anything about this incident, to please contact the Bermuda Police Service. This was an outrageous act committed against one of the vulnerable members of our population and we must see those responsible brought to justice. Our focus at this time is on the family and friends of the victim."
"The public can either call 295-0011, 211, or the confidential Crime Stoppers number at 1-800-8477."
Read More About