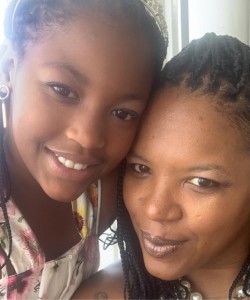 Tanisha Butler has earned 'Mother of the Year' honours in the Continental Society of Bermuda essay competition, earning high praise from her daughter Tjaia Butler for working and putting herself through school to be a lawyer, while always being an exceptional mother.
Tjaia Butler's  essay read, "If you think your mother should be mother of the year just wait until you meet mine.
"You might be wondering who this phenomenal woman is. Well, it's my mom of course. No other mom can top mine, not even Mother Theresa. She is the sun and the moon in my world, the brightest star on a dark night and the yin to my yang.
"My mother should be mother of the year because she pushes me to be better and to do better. She is a single mother who not only takes care of my brother and me but she is a foster mother too.
"She has so much love to give. She treats us all the same. She always makes time to watch my netball games and supports me 100%. My mother always puts me in my place when I am wrong. Letting me know it is important to be a team player.
"My mom is loyal and trustworthy. She works hard not only at her job but at home. While she was working she put herself through school to be a lawyer. Do you know how hard it is to read all those books, work and take care of three kids? She is brave and sacrifices to make sure we have. No matter how she is feeling she finds ways to put a smile on my face.
"When I am feeling down or sick she sits by my side the whole way through. My hero! Nobody can replace my mom. She sets the example that if she can do it I can too no matter how hard I may think it is. Hard work always pays off. So that is why my mother, Tanisha Butler, should be mother of the year."
A spokesperson said, "The Continental Society of Bermuda hosted their annual 'Mother of the Year' essay competition, with twelve primary schools participating, receiving about one hundred essays written by Primary 5 and 6 students. The essays were very heart warming and once again amplified the dedicated role that is being filled by our mothers, grandmothers, godmothers and aunts.
"Ms. Butler was recognised via a Zoom assembly held this morning at Northlands Primary School. She was overwhelmed by the heart-warming words written by her daughter, Tjaia. Both Ms. Butler and Tjaia received gifts from the Continental Society to celebrate their win and as a winning school Northlands received a monetary donation that will go toward their library and Tjaia's class received a pizza luncheon."
Ms. Butler said, "Firstly, I was extremely surprised to learn that Tjaia wrote an essay about me and submitted it to the Continental Society. Then when I was informed that she had won I couldn't wait to hear what she had written.
"Tjaia is very vocal about life in general and is not afraid to express her feelings. When she read her essay during assembly it truly blessed my heart. As a mother we do what we do selflessly to ensure that our children feel loved and protected.
"I am honored to receive this recognition. Being a mother is my greatest accomplishment. No matter how strong we appear on the outside our children have a way of removing the layers and exposing our ugly cries to the world.
"Tjaia is my rainbow baby and I can see her sister's spirit living through her. I'm blessed to be a mother to Taiej, Tajua, Tjaia and my bonus daughter Kaelys. Without them this acknowledgment wouldn't be possible."
The spokesperson said, "Ms. Butler and Tjaia were presented with gifts from local businesses including a gift card donated by Touche and donations from the Society's members of flowers, a gift basket, dining, spa, cinema, stationary, entertainment, pharmacy and grocery vouchers.
"For further information about the Continental Society, one of Bermuda's oldest charities, the work that they do in our community and how you can become involved, please refer to their Facebook page or contact them via email at continentalbda@gmail.com."
Read More About