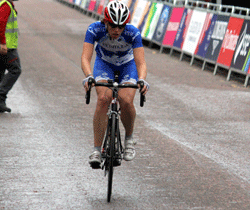 [Written by Stephen Wright]
Nicole Mitchell might have switched sporting disciplines from cycling to triathlon but still succumbed to the lure of the Sinclair Packwood Memorial Race.
Mitchell is the race's most dominant women's rider with wins in 2011, 2018 and 2021 but does not anticipate adding to her title haul when she takes to the start line tomorrow.
With Caitlin Conyers, Bermuda's top female rider, returning home from the United States to compete, Mitchell admits she is more focused on soaking up the unique atmosphere and enjoying the experience.
That is not to say she does not intend on pushing Conyers for as long as physically possible.
"Caitlin is cycling full-time, and I anticipate one attack, and she will be long gone!" Mitchell told Bernews.
"I don't train for attack and recover anymore. I'll give it my best shot, though. It's an epic race; everybody turns out for it. I'm just looking to enjoy the experience this year."
Mitchell has witnessed the spectacle grow and evolve over the years and remembers when the women would start the competition with the men before being granted their separate race.
"When I started, you raced together with the men," said Mitchell, who wears the colours of the Winner's Edge. "We've come a long way!
"The tactics are very different now. The men's race is about getting in the right draft, whereas the women's field is smaller, and the speed tends to be lower."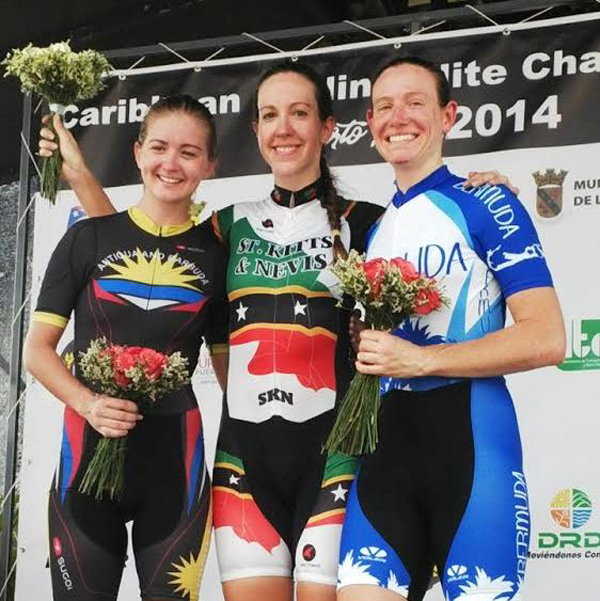 During the Covid-19 pandemic, Mitchell decided she needed another outlet to channel her competitive energies and returned to triathlon, a sport she had dipped her toe in many years ago.
Her expectations were wildly exceeded in her first overseas race, the Ironman 70.3 Timberman in New Hampshire last summer, where she qualified for the World Championship in St George, Utah.
Up next for Mitchell is the Ironman 70.3 Virginia's, Blue Ridge in Roanoke, Virginia, next weekend.
"It was a total bonus [to qualify for the Worlds]," she said. "I'd done a lot of training, and my cycling background really helps.
"I had the third fastest bike leg in my age group [35 to 39]. I still have a lot of work to do on my run.
"There's a lot of top female competition on the island with Ashley Couper, Karen Smith, Louise Wells and Maddy Durkin. That's really beneficial when you come into the sport. You can really push yourself against top guys.
"There are some aspects of triathlon that I really enjoy. It's more well balanced on your body than cycling."

Read More About