"We honor Mr. Richardson's legacy of Excellence, Leadership, Truth, and Service," read a tribute to the late Kenneth Richardson from his alma mater, Howard University.
Mr Richardson, who died in 2021, was Bermuda's first Black Secretary to the Cabinet, serving from 1984 to 1993.
The prestigious University, located in Washington, DC, honoured Mr Richardson in a signed resolution on behalf of the board of trustees, noting they wish "to include in its official record an expression of sincere condolence."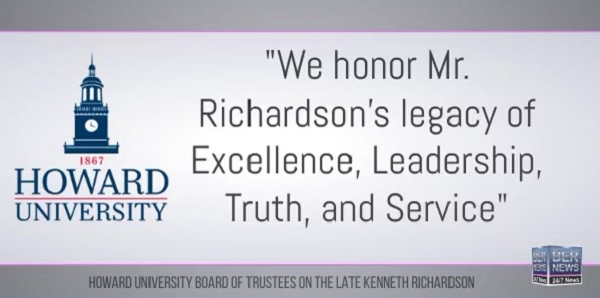 Mr Richardson received his Bachelor of Science degree in zoology from the former College of Liberal Arts in 1964 before returning to Bermuda to begin a long and distinguished career in public service.
He became the first Black Bermudian to hold the rank of permanent secretary, the youngest and first Black Bermudian to hold the dual role of secretary to cabinet and head of the civil service, and the highest-ranking civil servant in Bermuda.
The resolution added: "A published authority on labour relations and governance, Mr Richardson assisted with negotiating a tax treaty between the United States and Bermuda. In 1994, he organised the British Royal Visit to Bermuda and commended for its superior execution in a private audience with Queen Elizabeth II."
"Mr Richardson was appointed Commander of the British Empire [CBE] and Commander of the Victorian Order [CVO] by Her Majesty the Queen in 1988 and 1994, respectively, and received royal recognition for his role in settling disputes as the Government's chief mediator, the highest of which was his successful negotiation and resolution of the Bermuda General Strike in 1981, the largest of its kind."
Read More About