What do the Bishop of Bermuda, a CEO, comedian, DJ, journalist, professional boxer, social media influencer and a biochemist have in common? What sounds like the start of a cliche joke is actually a list of the people who spent time getting 'dunked' at the Summer Sunday event held in Victoria Park.
The City previously said they "partnered with local charity Big Brothers, Big Sisters of Bermuda for a special 'dunk tank' fundraiser where you can try your hand at dunking all your favorite familiar faces for a good cause!"
The Dunk Tank participants included City of Hamilton CEO Dwayne Caines, Bishop Nick Dill, reporter Gary Foster Skelton, Dr. Carika Weldon, Mr. Fotogenik, DJ Rusty G, professional boxer Nikki Bascome and entertainer Nadanja Bailey.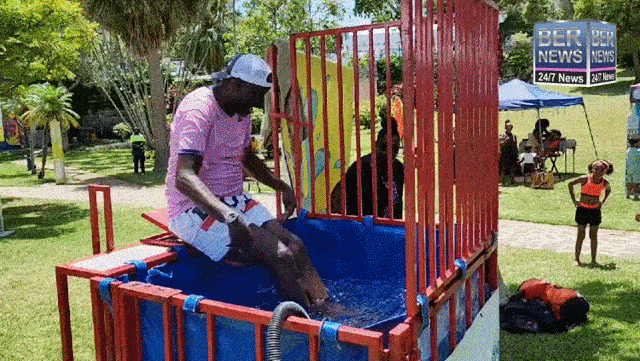 Hosted by the City of Hamilton, the event also included a number of games, an array of local entertainment and much more.
The City's Senior Events and Marketing Coordinator Tamara Smith previously said, "The last time this event was held was in 2019 and we are pleased to bring it back as it was a beloved summer event for the Bermuda public.
"The goal this year is to continue the expansion of the 'Summer Sunday' concept by adding, even more, kid-friendly activities, prize competitions and interactive elements for the entire family."
A quick compilation of everyone being dunked:
City CEO Dwayne Caines being dunked
Bishop Nicholas Dill being dunked
Gary Foster Skelton being dunked
Dr. Carika Weldon being dunked
Mr Fotogenik being dunked
DJ Rusty G being dunked
Boxer Nikki Bascome being dunked
Nadanja Bailey being dunked
Pie Eating Contest
Donut Eating, Slide, Face Painting & Kiddie Sprinkler Zone
Gombeys
Read More About
Category: All, Entertainment, News, Videos