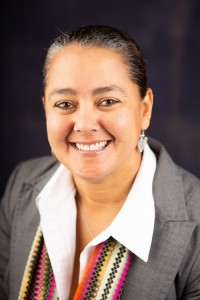 Carol Swainson has been appointed the new head of the Bermuda High School for Girls — effective July 2023 and pending immigration approval –  with the school noting she "will be the first woman of colour to hold the position of Head of School at BHS in its 128-year history."
A spokesperson said, "The BHS Board of Trustees and Head of School Search Committee, today announced the appointment of Ms. Carol A. Swainson as the new Head of The Bermuda High School for Girls, effective July 2023, pending immigration approval.
"The Board of Trustees is confident that with Ms. Swainson's educational leadership, administrative experience and intellectual rigor, BHS is welcoming an excellent leader who will successfully carry the School forward to implement the Strategic Plan, while continuing to embed innovation and design into the curriculum and supporting all students at BHS."
Chair of the Board, Cece Powell, stated in her letter to the BHS community today: "This announcement marks a pivotal moment for the future of BHS. We are excited and energised that Ms. Swainson will continue to build upon BHS's strong and lasting legacy of academic excellence.
"We know she is well-equipped to lead BHS and, together with our outstanding Senior Leadership Team, will enable the school's fulfillment of its Vision to be an international leader in developing girls and young women to stand out with confidence and purpose as they shape a changing world".
A spokesperson added, "Ms. Swainson has over 20 years' experience as an administrator in K-12 Independent Schools. She currently serves as the Head of School for San Francisco Schoolhouse, where she has doubled enrollment and increased student retention.
"In her prior leadership positions, Ms Swainson has established herself as a leading administrator and educator, championing educational excellence, innovation and sustainability.
"As an accomplished educational leader, Ms. Swainson has promoted faculty development and leadership within her schools, served on the Community, Teaching, Learning, Primary and Secondary Committees for evaluation and accreditation teams for independent schools, and facilitated presentations and workshops at national conferences. She has taught nearly every discipline from grades three to adult.
"As an administrator, she updated grading practices and improved standardised test results at the University of Chicago Laboratory School, and developed a comprehensive DEI structure and strategic plan at Sidwell Friends School that won the NAIS Leading Edge Award for diversity.
"After leadership transitions at St. James' Episcopal School, Ms. Swainson established faculty teams to foster dialogue about curriculum and student achievement, along with rebuilding trust and effective team collaboration, and she implemented an extensive evaluation system adopted for K-12 at the Bentley School.
"Ms. Swainson holds a Masters of Education in Social Foundations in Education and a Bachelor of Arts in French and Spanish Languages from the University of Virginia. With a background in the Arts, Ms. Swainson is an amateur oboist, composer, and filmmaker. Her appointment marks a historic first for the School and for Bermuda; Ms. Swainson will be the first woman of colour to hold the position of Head of School at BHS in its 128-year history."
Ms. Swainson says "I am pleased to serve as BHS's 16th Head of School, and I look forward to getting to know the BHS family and greater community even better. The opportunity to positively impact and empower young people through the full arc of their primary and secondary education makes possible magnificent results. BHS's alumni are evidence of its success.
"Empowering girls resonates on personal and professional levels. When I met with BHS students, I was struck by their thoughtful communication, analytical thinking, and courageous spirit. In our lively exchange in the Innovation Centre, these savvy young women proposed many clever ideas to strengthen the already amazing school that they love.
"Collaborating with them along with the outstanding faculty that nurtures and educates them will present a wonderful occasion to co-create innovations and fulfill BHS's mission and strategic goals. Not to mention, I look forward to taking my oboe and sitting in on a music ensemble to experience BHS from the student perspective.
"I relish this opportunity to build on a 128-year foundation of excellence and continue to execute on the Strategic Plan, which contains objectives that I have effectively addressed in my professional experience at other prominent independent schools."
The school added, "In the upcoming year, Head of School, Linda Parker, and the Trustees will work with the Senior Leadership Team to ensure a smooth and seamless transition with Ms. Swainson."

Read More About