While winds from Hurricane Fiona were raging outside, Bermudian couple Kei-she Fubler and Brandon Wilson were oblivious as they brought their first child, daughter A'riyah Justice Fubler-Wilson into the world at King Edward VII Memorial Hospital.
A'riyah was born at 3:17am weighing 6lbs 8oz.
Mother Kei-shea was overdue and was actually slated to be induced before news came that Hurricane Fiona would impact the island.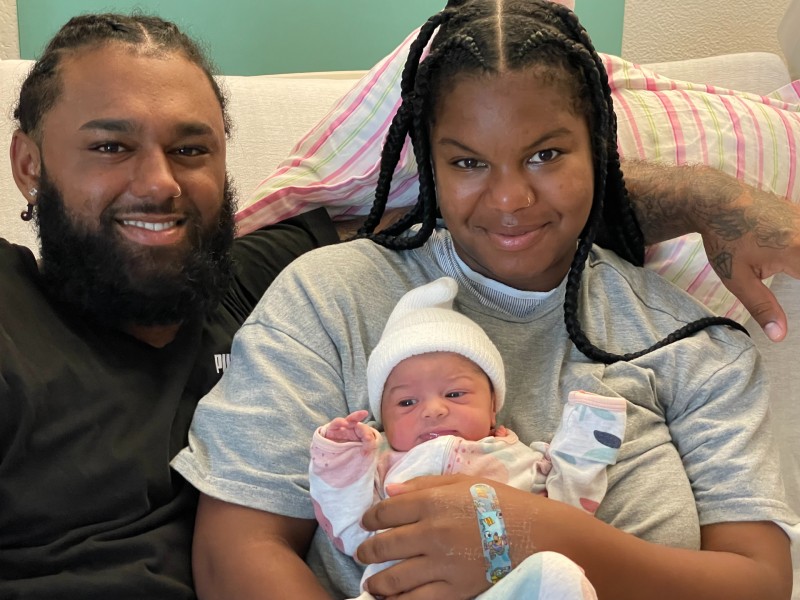 Mr. Wilson said, "The doctors had rescheduled that for Monday or Tuesday, but A'riyah decided to come naturally today. It all worked out well."
Bermuda Hospitals Board had advised the couple to overnight in the Maternity Unit as a precaution given the late stage of the pregnancy.
Mr. Wilson said, "They felt that the baby could come and that it would be difficult, or near impossible for us to make it here in time. And that's what happened. They gave us good advice and we are glad we took it."
Beaming with delight, he said witnessing the birth of his daughter was difficult to explain.
Mr. Wilson said, "So many different wonderful emotions are there. I was happy, I wanted everything to go smoothly and for the birth experience to be good one and for her to be healthy. Anything can happen during delivery and I'm grateful that we had a successful delivery. It's a blessing."
Ms. Fubler said, "I'm overwhelmed with joy. I brought this new life into the world. She is well and I am well. I'm blessed. And it's such a relief that she came naturally. I was a bit scared of being induced. The nurses and the staff were there for me and for Brandon. I felt supported."
Asked if they'd considered naming their daughter Fiona, the couple said many of their family and friends had asked the same.
Ms. Fubler said, "We thought maybe Stormy, but we had already agreed on A'riyah Justice and decided to stay with that."
Read More About