[Written by Berkeley Institute students]
"Individuals are told to reduce our "carbon footprint," and we should. But how many years of riding a bike to work would it take me to offset one F-15 flying for an hour?" Bruce E. Johansen.
This is not a question that a typical 17-year-old thinks about, but on October 5th, 2022, a group of students from The Berkeley Institute visited BELCO in order to answer this question.
The three main takeaways were safety in the work environment, how to mitigate pollution and alternative sources of energy.
Jaylen Ible, Jaylon Ible, Myeisha Sharrieff, Simon Santos, J'auza James, Cristiano Darrell, Jahzidae James, Ms. Jaget Gordon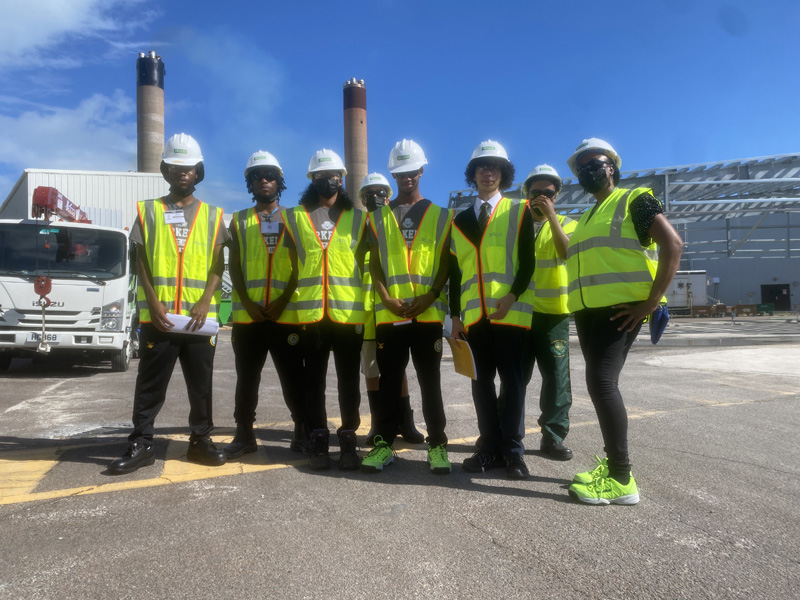 Upon arrival, a former Berkeley Student, Dana Bean, BELCO's Marketing & Project Administrator greeted us. She introduced the group to an OSHE coordinator. He briefed us on safety requirements, careers, and BELCO procedures. He also emphasized that BELCO employees are encouraged to be proactive instead of reactive.
The students were first required to dress in the appropriate PPE attire. PPE include hardhats, safety glasses, steel toed boats, vest and earplugs. The students were told to follow protocols and stay in designated areas with their tour instructor Israel Sanchez, and Ben Barnett.
Later in the tour, the students learned what BELCO currently does to mitigate pollution. BELCO must follow guidelines which fall under the Clean Air Act. This means that if they emit excessive air pollution they would be penalized. The pollutants in the waste products are reduced to meet regulatory standards before they are released into the environment.
Currently BELCO uses imported fossil fuels to generate electricity for the public, but they are currently working towards renewable energy sources. Such as offshore wind turbines and solar energy. There is also an initiative from Bermuda government that all of the government buildings should generate 6 mega-watts of solar energy. Homes which generate excess solar energy transfer the excess to BELCO.
Students found the tour to be very beneficial. It was especially helpful with regards to the provision of field experience and future career options. However, one concern that they had was that the pollutants in the waste oil stream and oily water stream was not one hundred percent environmentally friendly. The students were challenged to find careers that could solve this issue.

Read More About
Category: All, Environment, News