[Written by Don Burgess]
"I just did what I had to do."
Humble words from Captain Sloan Wakefield helped avert a possible significant disaster when he towed a boat on fire away from the docks after an explosion rocked the east end.
The Atlantic Charters captain had just pulled in to fuel his boat, Tenacious, and the people from his afternoon trip disembarked to the shore.
He told Bernews, "I just happened to be at the fuel station dropping off my charter from the day, and collecting some fuel for myself when another boat came in front of me."
Captain Wakefield said he finished refuelling the Tenacious and was about to pay when a thunderous blast erupted from the boat in front of him.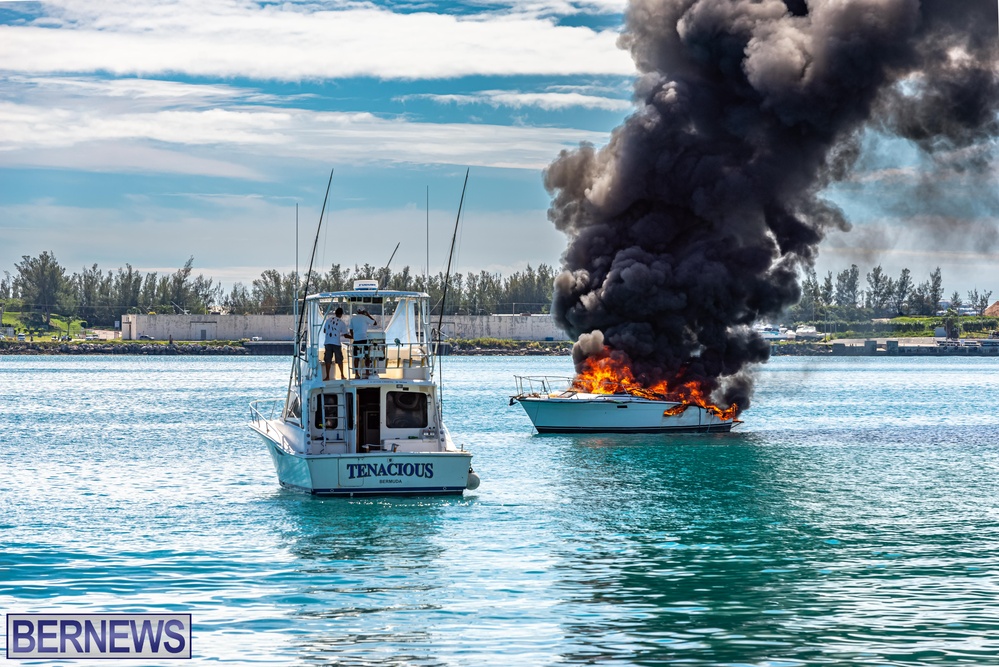 The ear-shattering, window-rattling event saw the other boat engulfed in flames.
"It was incredible," Captain Wakefield said. "It was a very loud bang. One of the loudest I've ever heard."
He asked if anyone was hurt on the other boat and was told, "no.".
Wakefield immediately told his brother Royce, "Let's get away from the dock. We managed to get away from the dock before there was any more damage or any other problems. I saw flames and I know it was a situation, and we had to act fast."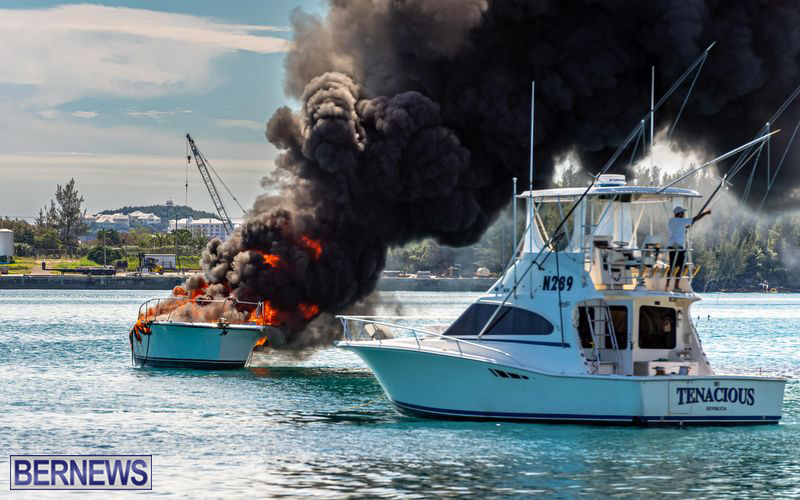 Rather than think about his own safety, Captain Wakefield headed back to the dock.
"We spun around and dropped off my brother, who ran to the front of the boat with a grappling hook anchor. He threw it onto the front of the ship, allowing us to attach ourselves to it and pull it away from the dock.
Captain Wakefield said he couldn't know how long it took to decide to tow the other boat away "it was something to just do now. I have no concept of time."
After pulling the other boat away from danger, he motored away from it in case of another explosion.
At this point, he was in contact with the fire service, letting them know he was still attached to the other boat and would tow it to Marginal Wharf. When he got there, he handed to rope to the fire service.
"At that point the bow rail had melted enough, the anchor fell off. They were able to extinguish the flames."
He told Bernews, "I'm very happy that nobody got hurt."
This video is circulating showing the boat being towed away
Read More About
Category: Accidents and fires, All, News