Harbour Gold Squad swimmers concluded their their week-long intensive training camp at the National Sports Center with a time trial.
A spokesperson said, "Harbour Gold Squad swimmers punctuated their week-long intensive training camp on Friday evening at the National Sports Center on Friday, October 28th with a time trial. Following a challenging week of training, the swimmers performed well despite fatigue.
Front row: Carter Bernard, Noah Maranzana, Connor Hupman and Nathan Burrill; left back row: Shona Palmer [Harbour Head Coach], Christina Abend, Arabella Newport Derbyshire, Tallulah Parkinson, Violet Smith, Sienna Spurling, Katherine Wheddon and Jenny Smatt [Harbour Coach]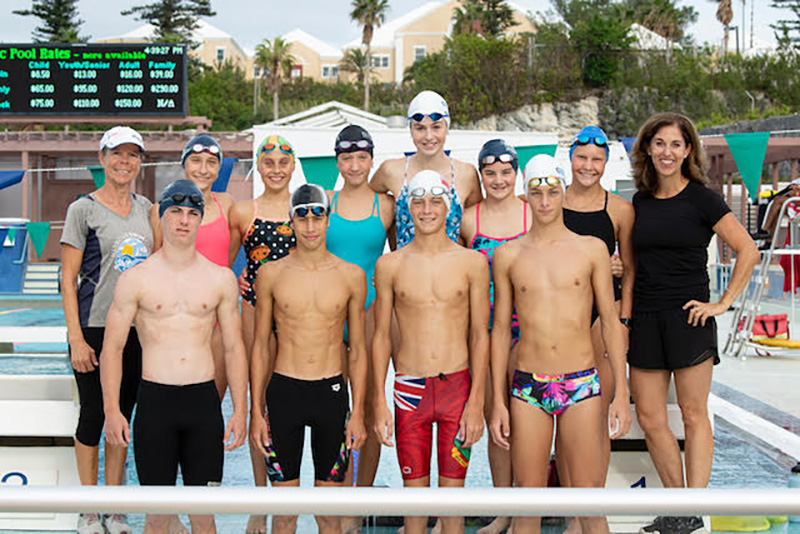 "The camp that commenced on Monday, October 24th included two daily sessions at the National Sports Center pool, strengthening and conditioning workouts led by Mandy and Taylor Smith as well as a session with sports psychologist, Dr. Tony Tucci of ImpactSportsLab."
"Intense training when the kids can focus on their sport without the stress of daily school schedules and an opportunity to focus solely on swimming and getting sufficient rest is important as we prepare them for our upcoming winter championship meet on December 3rd that is only a little over a month away," said Harbour Head Coach, Shona Palmer.
"The schedule and training were challenging both mentally and physically this week and the swimmers did a great job in approaching each day with a strong desire to work hard and establish a foundation for success in the coming months," said Harbour coach Jenny Smatt.
"Shona and I are both proud of the swimmers, particularly those who are experiencing this level of training for the first time. We got an opportunity to really connect with them one on one, better understand their goals and challenge them so they realize what they are truly capable of."
The spokesperson said, "The camp was planned in August and was originally slated to be in Naples, Florida.
"Following extensive damage to the Naples area due to Hurricane Ian, the club had to cancel the trip and swimmers needed an alternative location for training. With only three weeks to make a shift, the club was able to put together a camp, with the help of David Dodwell and The Reefs Hotel. Mr. Dodwell worked closely with Harbour Swim Club in supplying rooms for the team to stay, during a time when things were very limited due to the PGA Golf Tournament."
"The staff at The Reefs Hotel were wonderful in accommodating the swimmers at such short notice and it was a perfect example for our athletes to understand that even when things don't go according to plan, we must adjust, refocus and lean on our support systems to find a way to achieve our goals," said coach Jenny Smatt.
"We were able to train hard, hold our team meetings in a dedicated conference room and enjoy the best of what Bermuda has to offer. We can't thank David and his staff at The Reefs as well as the staff at the National Sports Centre enough for helping us make the week a huge success."

Read More About