Masterworks Museum announced the opening of Taking Shape, a sculptural group show in the Rick Faries Gallery, featuring works by Liana Nanang, Zoë Dyson, Stratton Hatfield, and Scott King.
A spokesperson said, "Focused on three-dimensional works, Taking Shape highlights the diversity that sculpture as a medium can provide. The opening will take place on Thursday December 1, 2022, from 5:30-7pm, and the public is encouraged to attend.
"Liana Nanang is a multidisciplinary storyteller with Black-Bermudian, indigenous Iban-Malaysian and Scottish heritage. Her work as a writer, sculptor, painter, and performer navigates race, nationality, trauma, resilience, spirituality, neurodivergence, and colonialism.
"Liana has exhibited artwork at Masterworks Museum of Bermuda Art in the 'Charman Prize' [2019, 2021], where she won the prize for Best Use of Materials [2021] and in the Bermuda Society of Arts 'Exhibition on Emancipation' [2020]. She is currently exhibiting visual art and poetry in the Bermuda National Gallery Biennial [2022]."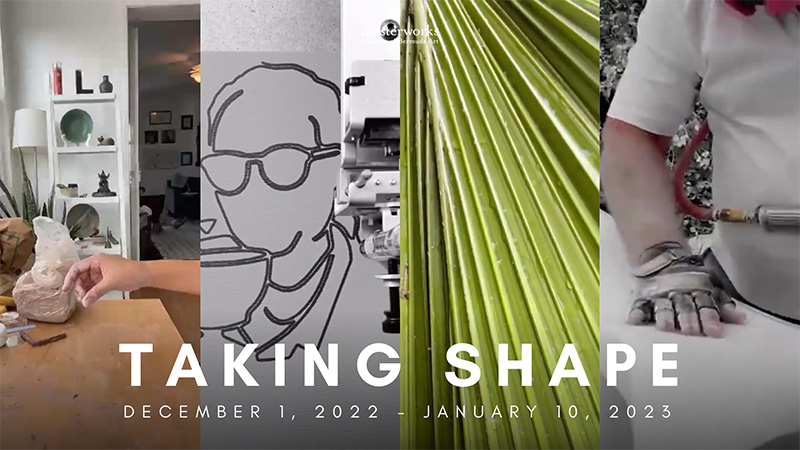 For Taking Shape, Nanang explains she has created ceramic sculptures that "explore resilience and resistance as ancestral memory. Inspired by the stories of my people in Bermuda, Borneo and Africa, my sculptures represent the shared narratives and practices of indigenous ways that were nearly annihilated through British colonialism. My work is a celebration of the indomitability of spirit, and the love that transcends generations."
The spokesperson said, "Zoe Dyson is a Bermudian artist and educator, currently teaching at Greenwich Academy in Greenwich, CT, in the Engineering and Design Lab. Her passion for digital design has evolved into more sculptural work by virtue of this teaching space and the resources available. Always creating digital art, she experiments by bringing these designs into 3D space through methods like fabric printing."
Of the work created for Taking Shape, Dyson explains, "the work created for this show is an assortment of projects that each began as an idea for a class lesson plan: press-fit boxes, 3D prints, renderings on the AxiDraw and 2D images transformed into 3D with slotted forms, for example. With this particular collection of work, my goal is to share some of the possibilities for creating with modern technology."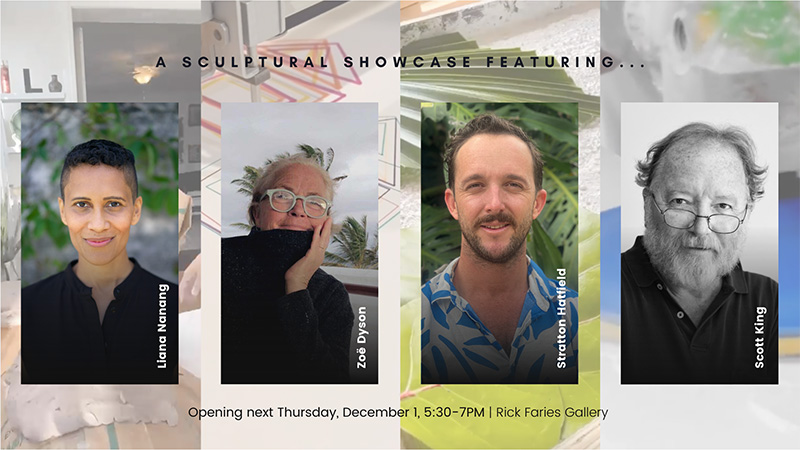 The spokesperson said, "Stratton Hatfield is an artist, designer, social activist, and sustainability leader. Stratton has been making art since childhood and has been involved with creating various art forms throughout his academic and professional career. Since 2011, he has used endemic and invasive plants to fabricate concrete cast sculptures in a process he calls YART. The fossilized pieces of flora are made to evolve over time as they interact with elements in outdoor and indoor spaces."
Hatfield said, "This collection of work is an ode to Bermuda's organic beauty and explores the permanence and impermanence of natural things that exist around us. This work attempts to preserve the beauty found in our environment, solidifying the geometry and patterns found in flora throughout the island."
The spokesperson said, "Scott King is a self-taught sculptor who works with ivory, cedar, and stone. In recent years, his primary choice has been marble. He has exhibited at the Masterworks Museum of Art, in the Charman Prize since 2012, and at the Bermuda Society of Arts, with varied sculptural subjects from animals to figures, vessels and abstract forms."
Speaking to his love and commitment to sculpture as a medium, King notes, "There are certain curves I have loved all my artistic life…. whether I was working in ivory, cedar, or stone. They just feel right, and calm. Touching them adds a dimension not always available in other mediums. My hope for my work is that you will simply enjoy it, and let your own emotions shape the stories they represent."
The spokesperson said, "Taking Shape promises to showcase the beauty and possibility of sculpture. 3D printed assemblages, ceramic, concrete cast, and marble sculptures is only a short summary of what the public can expect to see, and support, with many of the works by these talented artists available for purchase.
"Taking Shape opens on Thursday December 1, 2022, from 5:30-7pm, and will be on view until January 10, 2023. The Masterworks Museum is open Monday through Saturday, 10 am – 4 pm."

Read More About
Category: All, Entertainment, News