[Written by Stephen Wright]
For the past 26 years, Wendell Dill has been performing master of ceremonies duties for the Convex End-to-End, helping pump up participants before the annual event in St George's.
It is a role Mr Dill dearly loves, with the 71-year-old insisting he will continue helping create a unique and special atmosphere in King's Square for the cyclists, runners and walkers for "as long as I can still open my lips!"
On Saturday [May 6], he will arrive in the East End at 6.30 am to prepare for another morning of introducing dignitaries, interviewing participants, and whipping up the atmosphere as they warm up for the gruelling challenge.
He only leaves St George's for the Dockyard finish line once satisfied that every competitor has set off feeling energised and encouraged.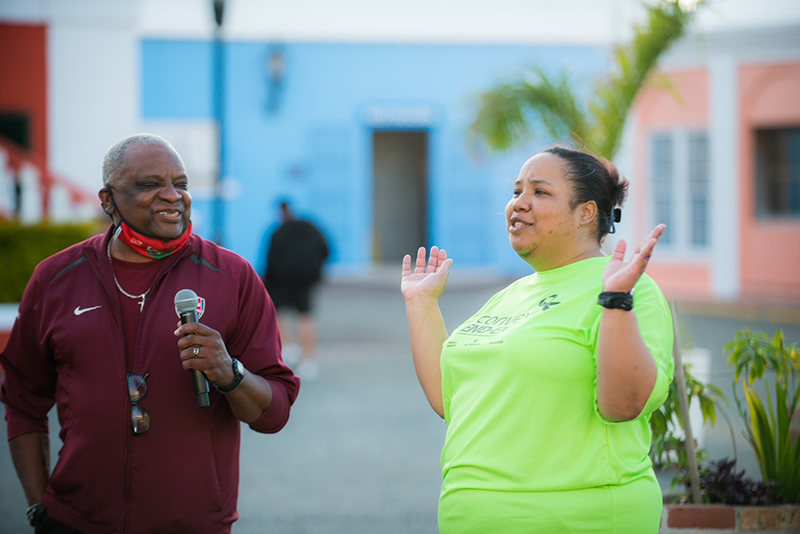 Mr Dill told Bernews: "I welcome everybody into St George's, I introduce dignitaries, we do the cardio warm-ups, and I walk around and meet people, interviewing first-timers, school groups, and those who have been doing it for years.
"It's great to get insight into why they do it. I try and speak to them all!
"Every year, we have a group of cyclists dressed in colourful costumes. They have themselves a ball! I don't think half of them even make it to Dockyard.
"I stay in St George's for as long as possible because you get some latecomers, the walkers and cyclists. I want everyone to have the same experience. I only head to Dockyard once we're ready to pack up."
Mr Dill, who is heavily involved with Premier Division football side North Village, known as the "Voice in the Village" said the level of camaraderie between the participants, particularly the cyclists, never ceases to amaze him.
"Whether they're competitive cyclists or not, everyone helps each other, checking chains, pumping up tyres and ensuring everyone has enough hydration," Mr Dill said. "It's lovely to see."
Over the years, Mr Dill has witnessed the event "come on leaps and bounds" and believes Anne Mello, the End-to-End chairman, and her committee deserves all the plaudits.
"It's such a special event," he said. "If we had another ten Anne Mellos, it would be second to none!
"I encourage people to get involved. You're going to have fun and get hurt a little. I see the participants when they leave St George's and finish at Dockyard. I can tell you, there are not the same people!"
The Full End-to-End starts at 7 am in St George's. The 14-mile Middle-to-End starts at 10.30 am at Point Pleasant Park in Hamilton, next to the Point House building.
Meanwhile, the Fun Walk and Cycle, sponsored by Athene, takes place at 2 pm, starting at Beacon Hill in Somerset.
Proceeds will go towards the Bermuda Zoological Society, Gina Spence Productions, The Eliza DoLittle Society, the Skills Development Programme, and Vision Bermuda.
To sign-up or find out more information, click here.

Read More About