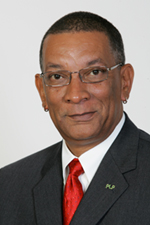 Minister of Labour, Home Affairs and Housing Senator Lt. Col. David Burch has invited Bermudians to a 'Bermudian only' meeting to discuss term limits.
Established in 2001,  the regulation limits an ordinary guest worker to a maximum of six years in Bermuda.
The controversial ruling has drawn criticism from business executives saying it damages the industry.
Veteran business writer Roger Crombie had made the point that while other jurisdictions make great efforts to seek to attract and keep the best talent, Bermuda institutes the term limits.
The meeting will be held on Thursday, April 8th at the Berkeley Institute starting at 5:30 p.m. Colonel Burch's email specifically states that proof of Bermudian status must be shown at the door.
The full text of the email follows below:
From: Burch, David [mailto:dburch@gov.bm]
Sent: Monday, March 15, 2010 5:34 PM
Subject: INTERNATIONAL BUSINESS IN BERMUDA

Dear Bermudian Worker in International Business,

I have heard from every alphabet group in this country who purport to represent you and your industry and they have indicated to me that Work Permit Term Limits signal the death knell of international business in Bermuda. They have always cited that this will negatively affect Bermudians in the industry and so I want to hear from you.

So what say you?

As the Minister currently responsible for Immigration – I wish to first of all share with you the policy and the reasons for its enactment and also to hear directly from you – those in the industry. Please join me on Thursday, 8 April at the Berkeley Institute starting at 5:30 p.m.

Come with your concerns and solutions.

This is not an opportunity to whine, but an opportunity to share relevant information about the industry and discuss viable solutions directly with me.

This is a private meeting for Bermudians only – no media – so that there can be an honest sharing of ideas. In this vein proof of Bermudian Status will be required. Please feel free to share this invitation with your fellow Bermudians in the industry.

Please feel free to share this email with everyone that you know who works in the industry.

We are keen to gain an understanding of how many we will be catering to – so please respond to biib@gov.bm.

Many thanks and I look forward to seeing you on April 8th.
Read More About