Bernews understands that entry to the meeting tonight to discuss term limits will be by "wristband only". Minister of Immigration Colonel David Burch had sent out an email in mid March inviting Bermudians who work in international business to a meeting to discuss term limits for guest workers.
It has already been a high point of contention with the Chairman of the Bermuda Democratic Alliance [BDA] Michael Fahy, who who works in international business being excluded, and Senator Michael Dunkley and Colonel Burch previously tousling about Senator Dunkley's attendance.
We have been told, however we unable to confirm, that the people that RSVP'd may have been cross checked on the Bermudian Register and those that were found were then advised that they can collect a wristband.
We were told by one individual who collected their wristband that it stated "Approved by Minister", and that their name was on a label on the inside, of which the person wryly commented "I wonder how much that cost us?"
Update: We snapped a photo of an attendee wearing one of the "Approved by Minister wristbands:
-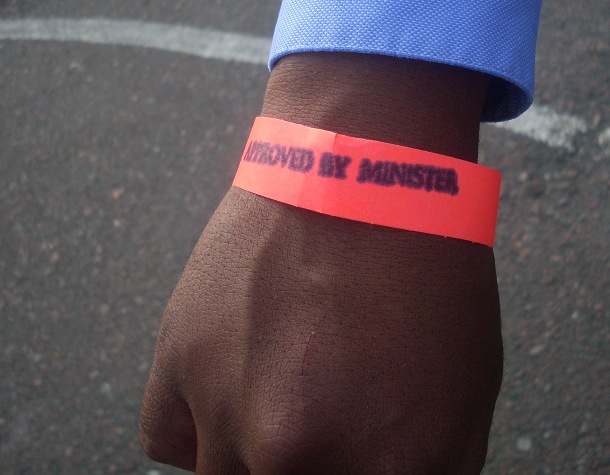 Bermudian corporate lawyer and BDA Chairman Michael Fahy, whom as we reported earlier was dis-invited, has stated he will not attempt attend as he doesn't wish to add to any form of "circus", and wanting to avoid further escalation.
He says he instead wishes to allow Bermudians to attend and listen to the Ministers points. He went on to say he would like people to attend, and make decisions, although he maintains that his exclusion is discriminatory as he intended to attend in his capacity as a Bermudian international business employee.
On the subject of the wristbands? Mr Fahy says that asking people to "wear an orange wristband stamped Approved by Minister is unheard of and offensive".
The full text of the email sent out follows:
Good Afternoon,

To expedite entry into the meeting on Thursday, 8 April at The Berkeley Institute for Bermudians who work in International Business, wrist bands will be issued to persons who have RSVP'd.

As you have RSVP'd you can collect your wrist band from the Ministry of Labour, Home Affairs & Housing located in the Government Administration Building, First Floor 30 Parliament Street, Hamilton HM 12.
Read More About