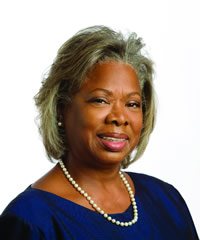 Education Minister Dame Jennifer Smith today [Jan. 21] announced the first steps aimed at putting "Teaching and Learning" at the forefront of the Ministry's mission.
The Minister said that after re-reading the Hopkins Report and examining the status of its recommendations, studying the Blueprint for Education and meeting with the Board of Education, the Association of School Principals and the Bermuda Union of Teachers — she decided to adopt the BUT's theme of "Keep It Simple".
That means a direct focus on the core principles "Teaching and Learning."
To this end, and effective immediately, the Commissioner of Education, Wendy McDonnell, will give up responsibility for the day to day operations of the Department of Education in order to lead the transformation of the Bermuda Public School System.
A spokesperson said "Mrs. McDonnell has been given this responsibility because of her extensive and successful background in championing educational reform in Canada prior to returning to her home country, Bermuda, and assuming the post of Commissioner."
The Minister noted that Mrs. McDonnell's title will now be Commissioner with responsibility for Teaching and Learning.
As such, she will have the authority to do whatever it takes to move the necessary reforms forward; and to ensure that the support needed for our principals and teachers to achieve the best teaching and learning for our students is in place.
Permanent Secretary of Education, Warren Jones, will take on responsibility for the day to day operations of the Department of Education in the dual position of Permanent Secretary and Acting Commissioner of Education with responsibility for Operations.
The Minister noted that it was fortuitous that the Permanent Secretary has the educational qualifications, experience and proven track record to lead the Department towards a singular focus on student outcomes.
Reporting functions within the Ministry will not change; and as the Permanent Secretary Mr. Jones remains ultimately responsible for the delivery of the Government's agenda.
Read More About