[Updated with photos] Employees of Marsh and Guy Carpenter plan to log more than 500 volunteer hours today [Feb 21] working alongside residents and business owners cleaning up and beautifying North East Hamilton.
This is the second consecutive year that Marsh and Guy Carpenter, operating companies of Marsh & McLennan Companies, have held a 'Community Giving Day,' in which employees set aside a day for a company-wide volunteer initiative.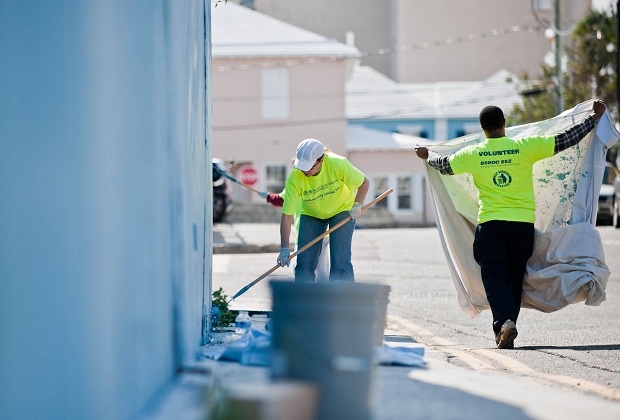 For this year's initiative, Marsh and Guy Carpenter partnered with two local organizations, the Economic Empowerment Zone Agency [EEZA] and Keep Bermuda Beautiful [KBB] to help clean up North East Hamilton, which is the first Economic Empowerment Zone [EEZ] identified by EEZA for social, economic, physical and spiritual development with the goal of reviving and regenerating the area.
Nearly 120 employees from Marsh and Guy Carpenter, as well as an additional 50 volunteers from a number of organizations in North East Hamilton are expected to participate in the effort today.
Projects include painting murals, cleaning up trash, removing graffiti, hanging flower baskets, installing a wheelchair ramp, and other handyman work.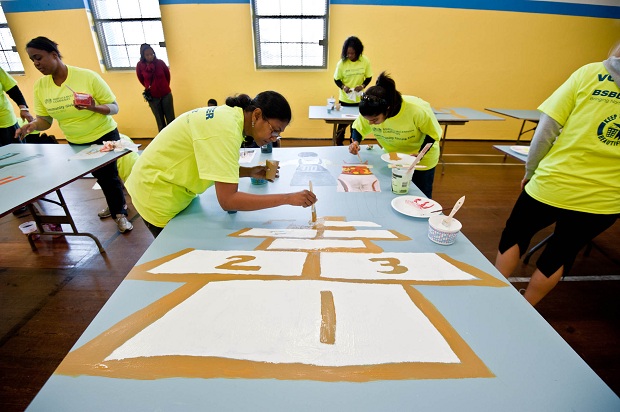 "While our companies support a variety of important causes in Bermuda throughout the year, we are especially pleased to provide this opportunity for our employees to serve the community on such a large scale for Community Giving Day," said David Ezekiel, Bermuda Chairman of Marsh & McLennan Companies and Chairman of Marsh's Bermuda Charity Committee. "The fact that we've been able to set an ambitious goal of donating 500 volunteer hours shows that our employees enjoy giving back, too."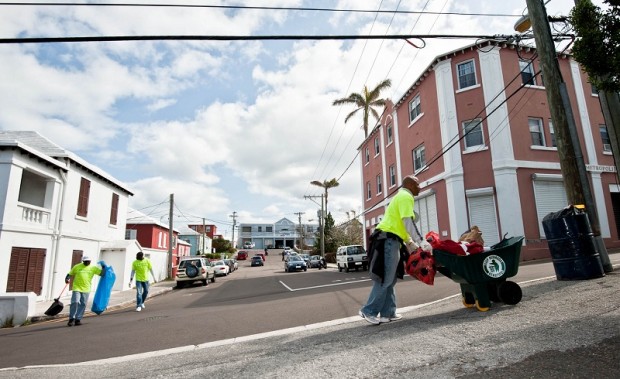 "We were thrilled when Marsh and Guy Carpenter approached us with the idea of working together," said Erica Smith, director of EEZA. "We knew they could make a substantial impact in North East Hamilton. It really does take a community coming together to create change, and we are grateful that Marsh and Guy Carpenter are leading the way."
Update 5pm – Click to enlarge images:
Read More About