[Updated] A report of a "suspicious package" at the Cabinet Office on Front Street at approximately 11am this morning [Apr.5] has lead to the Cabinet Office being evacuated, as well as emergency responders arriving.

-
There are a number of people gathered on the front lawn, and there are two fire trucks present. We have limited information at this time, but will update as able.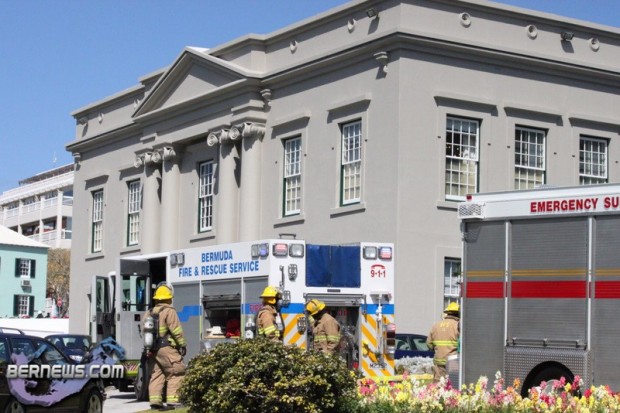 Update #1: A number of MPs including the Premier are standing on the sidewalk, and appear to be speaking to a member of the Fire Service.
Update #2: The Police are also on scene, and are blocking access to the Cabinet Grounds.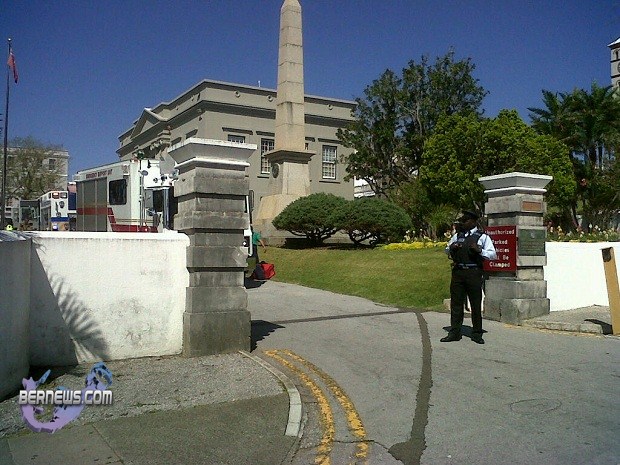 Update #3: It appears that Police will be removing the cars from the Cabinet Grounds to be inspected. The package has been removed by the forensic officers and will be tested to determine what the substance is.
Update #4: Police confirmed the package is non explosive, with Police spokesman Dwayne Caines saying, "Police responded to a report of a being found in the grounds of the Cabinet Office. In the abundance of caution the Cabinet Office has been evacuated and EOD [Emergency Ordnance Disposal Unit] were called, and the area was evacuated. Presently the substance is waiting to be analyzed. The package was received by a member of the Cabinet staff who notified appropriate persons."
Update #5: Pictured below, the Premier along with National Security Minister Wayne Perinchief speaking with representatives from the Police and Fire Service outside the Cabinet.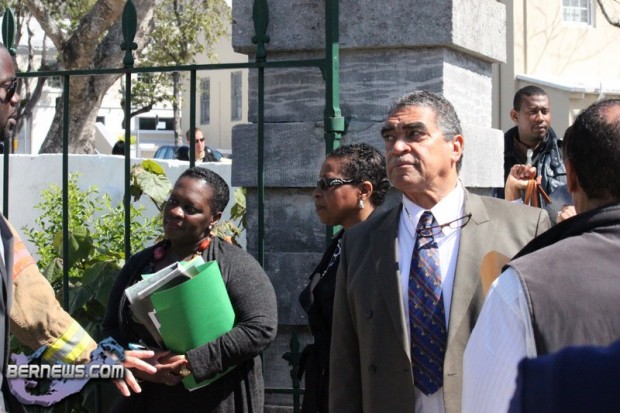 Update #6: Video of statement from Police Spokesman Dwayne Caines:
Update #7: The "suspicious package" may have been some form of an envelope.
Update #8: Quick video of the scene outside Cabinet:
Update #9: Nothing official has been said, but it appears that as of 1:45pm the situation is resolved. Emergency services have left, and people appeared to have gone back into the Cabinet Building. We unofficially understand the substance was not found to be damaging.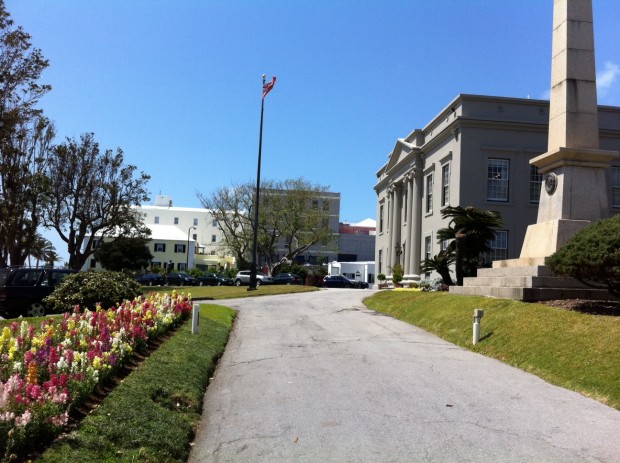 Update 2:30pm: Police said, "On Tuesday, April 5th, at 10:59 am The Bermuda Police Service and the Bermuda Fire Service responded to a report of a suspicious envelope with an unknown substance that was intercepted at the Cabinet Office. As a result the appropriate protocols were followed and the Cabinet Office was evacuated and the Emergency Ordinance Disposal Unit of the Bermuda Police Service and the Bermuda Fire Service secured the "flat envelope". The Government Analyst was called and it was ascertained that the substance in the envelope was not a threat to anyone."
[Photo slideshow is thanks to John Manderson]
Read More About