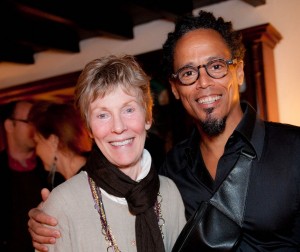 The fictional "Star Wars" and "Stargate" universes collided recently – in Bermuda.
Two stars of the enduringly popular science fiction franchises met at last month's Bermuda International Film Festival.
But to the disappointment of geeks everywhere, they ended up discussing their mutual love of Bermuda rather than whether the Force could defeat advanced Goa'uld alien technology.
Puppeteer Kathryn Mullen, a veteran of the second film in the "Star Wars" series, and BIFF judge Peter Williams, the Jamaica-born Canadian actor who has played arch-villain Lord Apophis in the various "Stargate" TV series, were introduced at a dinner for filmmakers hosted by the festival
Ms Mullen, wife of Bermudian Muppet maestro Michael Frith, remains best known as one of the team who brought Jedi master Yoda to life in 1980′s "The Empire Strikes Back" — that's her finger lifting Luke Skywalker's crashed X-wing fighter from the swamp in the clip below:
Mr. Williams' character Apophis was the major recurring villain in the "Stargate" shows launched with the original "Stargate SG-1″ series in 1997, a spin-off of the hit movie of the same name.  Apophis originally commanded a minor space fleet but grew in strength, ultimately succeeding his brother Ra as the dominant Goa'uld System Lord after his death.
Although their conversation focussed on Bermuda — this was his first visit "but definitely not the last" — Mr. Williams did briefly engage in some good-natured "Star Wars" Versus "Stargate" upstaging with Salt Kettle resident Ms Mullen, currently working on the international No Strings puppet charity with her husband.
He pointed out a thousand-foot diameter asteroid which will pass close to the earth in 2029 had been named after his character by astronomers who were fans of his shows.  By way of  comparison, he said Yoda had only achieved post-"Star Wars" immortality in a Weird Al Yankovic song parody.
Photo courtesy of Chris Burville
Read More About
Category: All, Entertainment, Films/Movies, News