[Updated with full results & video] Darren Glasford won the 2011 Sinclair Packwood Memorial Race this morning [May 24], while Damian Sharp finished in second place and Wayne Scott came in third in the male adult race. Nicole Mitchell won the Women's section, with Karen Bordage coming in second. Dominique Mayho was the junior male winner, and finished second overall.
As the group reached the top of Queen Street, Darren Glasford from Winners Edge made his move, powering his way to the front and finishing in 26:37.3, ahead of Damian Sharp from Fast Forward Freight Bicycle Works who clocked 26:37.8, while Wayne Scott finished 3rd in 26:37.9.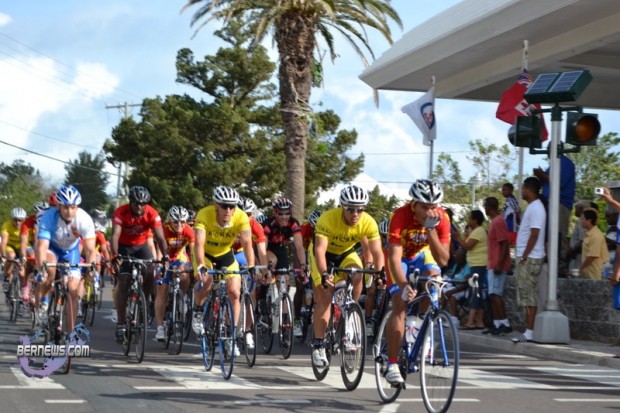 A  police officer, Mr. Glasford started competitive cycling in 2006, typically riding five or six days every week in order to train. Last October he was one of the riders who represented Bermuda at the Caribbean Cycling Championships held on the island of Guadeloupe.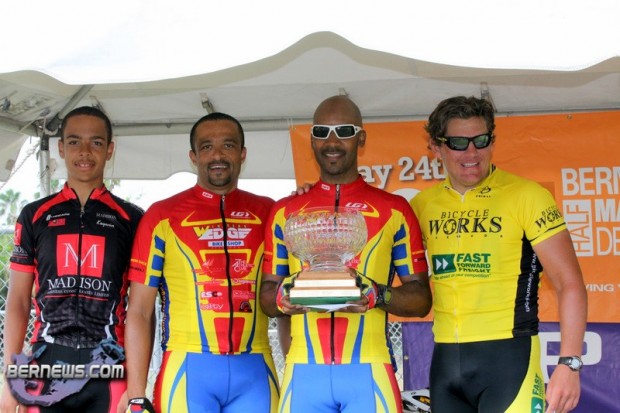 In April he won the opening race in the five-event IBC Criterium Series at Southside, St. David's. The Bermuda Day cycle race was introduced in 1987, and renamed in honour of the late Sinclair Packwood in 1998.
At one point Karen Bordage, the second female finisher, had the lead she is pictured below leading the pack: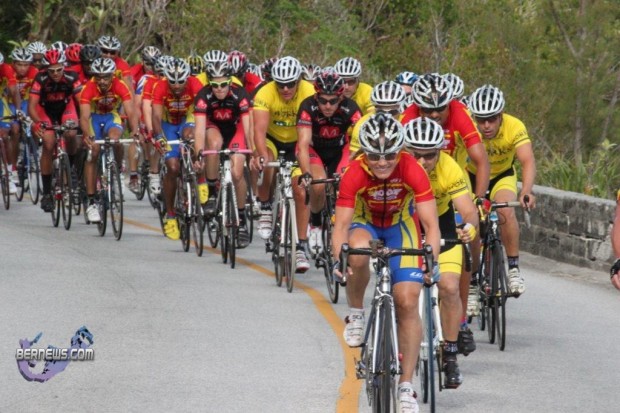 An estimated 70 cyclists took part in the event. The start of the race was delayed by about 25 minutes because of a traffic accident in the Scenic Heights area.
Nicole Mitchell from Winners Edge won the Female Race in 26:46.0, with Karen Bordage from Winners Edge placed second in 27:08.0. A number of female competitors did not finish including Stacy Babb, Wenda Roberts, Earlena Inham, Andrea Proctor, Lorraine Silvia, Pandora Glasford, Kamryn Minors, and Gabriella Arnold. Female winner Nicole Mitchell is pictured below on the right in the lead pack: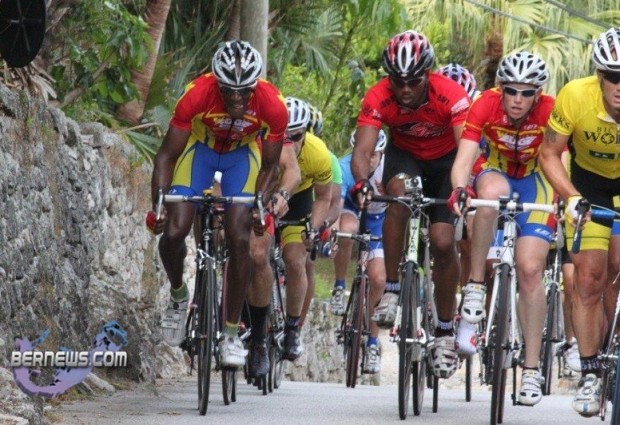 The race followed the same route as the Marathon Half Derby; from Somerset to Hamilton, but instead finishing along Cedar Avenue rather than Bernard Park.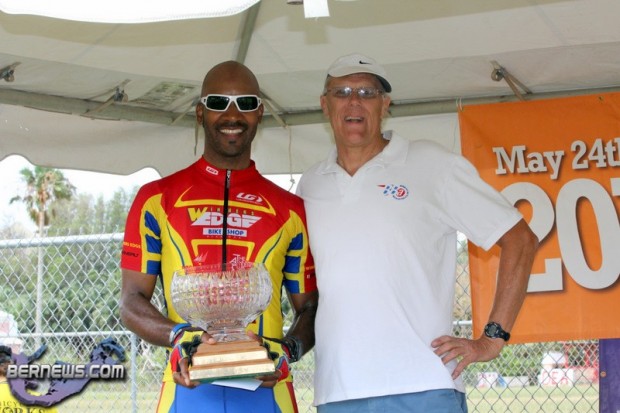 Sinclair Packwood [1962-1998] was recognised as a top sprinter and was, for many years, one of our top riders, winning several events and representing Bermuda in multiples competitions abroad.
He also worked for the Bermuda Bicycle Association behind the scenes, serving as a member of the executive for a number of years.  As such he was one of the key figures who convinced the police and the Bermuda Day organiser to allow the BBA sponsored event.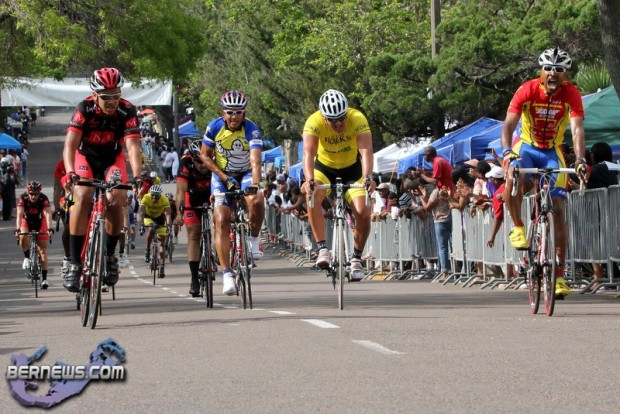 Update: Full results 2011 Sinclair Packwood Memorial Race Results
26:37.3 Darren Glasford – Winners Edge
26:37.8 Damian Sharp – Fast Forward Freight Bicycle Works
26:37.9 Wayne Scott – Winners Edge
26:38.0 Daren Dowling – Focus
26:38.0 Phil Trussell – Madison
26:38.2 Dennis Joell – Crime Stoppers
26:39.0 Mark Hatherley – Winners Edge
26:39.3 Randy Burgess – Winners Edge
26:39.6 Neil Lupsic – Madison
26:40.2 Clifford Roberts – Fast Forward Freight Bicycle Works
26:41.6 Brian Drea – Madison
26:42.3 Greg Reid – Madison
26:42.8 Alan Mooney – Tokio
26:44.3 Kent Richardson – Winners Edge
26:44.7 Adam Harbutt – Madison
26:44.9 Arthur Pitcher – Fast Forward Freight Bicycle Works
26:45.5 Elliot Hubbard – Winners Edge
26:46.3 Rickai Lightbourne – Crime Stoppers
26:47.1 Mtume Hart
26:48.4 Macio Talbot – Tokio
26:48.5 Dwyer Williams – Focus
26:50.5 Christopher Faria – Fast Forward Freight Bicycle Works
26:53.4 Jeff Amaral – Fast Forward Freight Bicycle Works
26:53.7 Norbert Meyer – Fast Forward Freight Bicycle Works
26:53.7 Ian Port – Fast Forward Freight Bicycle Works
26:56.7 Stephen Tomlinson – Fast Forward Freight Bicycle Works
27:04.8 Richard Bruton
27:09.8 Jason Piney – Tokio
27:17.6 Grant Goudge – Fast Forward Freight Bicycle Works
27:18.0 Charles Dunstan – Fast Forward Freight Bicycle Works
27:18.0 Neil de Ste Croix – Fast Forward Freight Bicycle Works
27:27.1 Mannard Packwood – Tokio
28:33.9 Arthur Glasford – Winners Edge
28:34.4 Anthony Rynne – Tokio
29:00.5 Anthony (Ricky) Smith – Winners Edge
29:01.1 Peter Dunne -
29:01.9 John Arthur – Crime Stoppers
29:02.2 Greg Hopkins – Winners Edge
30:45.6 Anthony Bartley – Crime Stoppers
30:56.4 Earl Godfrey – Focus
31:44.3 Andrew Steel – Madison
34:00.2 Roan Jones
38:43.5 Everton Dawes
DNF Michael Thomas, Nigel Godfrey, Vincent Chavez, James Davis, Rafael Simons
Junior Male
26:37.6 Dominique Mayho – Madison
26:44.9 Mark Godfrey – Winners Edge
26:49.0 Vashon Cann – Fast Forward Freight Bicycle Works
27:12.9 Daelen Richardson – Tokio
27:30.3 Nico Barclay – Tokio
29:01.6 Che'quan Richardson – Winners Edge
30:42.8 Daniel Oatley – Fast Forward Freight Bicycle Works
30:45.3 Tre'-shun Correia – Winners Edge
40:49.7 Nakeno Creighton
DNF Deshi Smith, Alexander Davis
Read More About