Four Bermudian students headed for environmental careers have been named recipients of this year's Steinhoff/Bermuda Zoological Society Scholarship.
Pictured at the presentation are [from left]: BZS President Kevin Comeau, BZS past president Robert Steinhoff, awardees Winston R. Godwin Jr, Lawrence Doughty, Claire Grenfell and Mark Outerbridge, and Dr. Ian Walker, Principal Curator of Bermuda Aquarium, Museum & Zoo.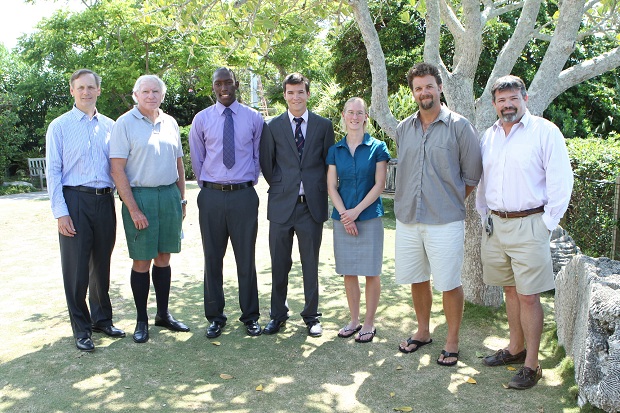 Winston R. Godwin Jr. and Mark Outerbridge [last year's winner]), Claire Grenfell and Lawrence Doughty were selected for awards by the scholarship committee from a strong field of 13 candidates.
The Steinhoff/BZS Scholarship for Environmental Sciences was launched in 2009 for young Bermudians headed for a career related to conservation and the environment.
Applicants must be in the final two years of a Bachelor, Master's or Doctorate degree in environmental sciences at an accredited institution. Funded by former BZS president Robert Steinhoff, the scholarship aims to fill a gap in the local array of scholarships, of which the majority are geared towards business or law students.
"We are very impressed and encouraged by the number of people studying for higher education related to our environmental conservation," noted Bob Steinhoff.
"Given the excellent quality of candidates, the committee decided to award four scholarships—three to undergraduates and one studying for a doctorate. These candidates will be the future stewards of our environment and we congratulate them."
This year's recipients include:
Winston R. Godwin Jr. [who received $5,000 for one year]
A third-year student at the University of Guelph, Ont. who is studying for a BA in Geography with a focus on Environment and Geographic Information Systems (GIS). He hopes to work in the field of climate change and its effects on ecosystems and environments;
Mark Outerbridge [$3,000 for one year]
ABZS ecologist studying for his PhD degree. Over the past seven years, he has delved into the wetland ecosystems of Bermuda, particularly endemic killifish and native terrapins. He is also the national coordinator for the Bermuda Turtle Project;
Claire Grenfell [$5,000 for one year]
Is entering her fourth year at Queen's University, Kingston, Ont. this fall, studying for a Bachelor of Science degree in Environmental Science. She intends to go on to do a Master's degree and pursue a career focussed on protecting Bermuda's environment.
Lawrence Doughty [$2,000 for one year]
Is studying for his Bachelor degree in Earth Sciences at Cardiff University, Wales. He intends to pursue a Master's degree in the same field, and work as an environmental scientist in Bermuda and overseas.
This year's awardees are pictured below, from left, Winston R. Godwin Jr, Lawrence Doughty, Claire Grenfell and Mark Outerbridge: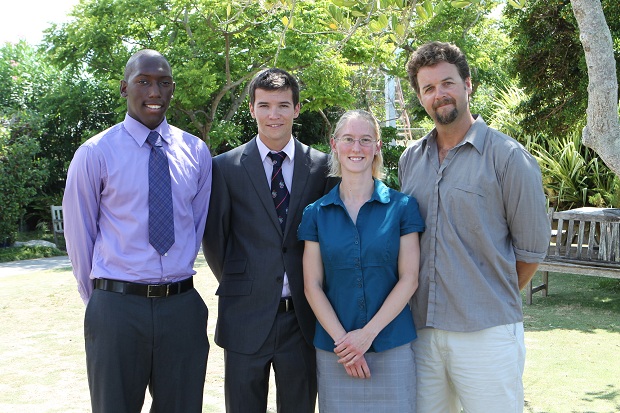 "We applaud our 2011 scholars and wish them all the best as they continue their studies towards careers that aim to benefit Bermuda's environment and that of the world at large," said Kevin Comeau, President of BZS, support charity for Bermuda Aquarium, Museum & Zoo (BAMZ).
"The dedication of these students towards learning more about our natural environment and preserving it is an inspiration to all of us, and BZS is proud to help support them."
- Photos courtesy of Charles Anderson
Related Posts
Category: All, Environment