Earlier this morning [Aug.22] Premier Paula Cox signed Bermuda's 27th Tax Information Exchange Agreement [TIEA] with Argentina. Today's signing ceremony took place at Camden. Premier Cox and Dr. Ricardo Echegaray, Head of the Argentinean Federal Administration of Public Revenues sign TIEA: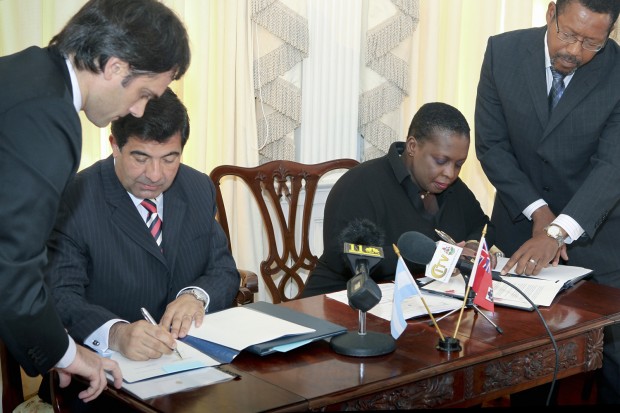 Premier Paula Cox, Acting Cabinet Secretary Judith Hall-Bean and Dr. Ricardo Echegaray (centre) seen with (clockwise): Vincente Fox, Treaty Unit special liaison for South American Affairs, Guillermo Michel, Advisor of the Federal Administrator on Technical Issues and International Affairs, Wayne Brown, Assistant Financial Secretary, Dennis Simons, Ministry of Finance Research Officer (Treaties), Laura Hershey, Ministry of Finance Treaty Advisor, Federico Candiolo, and Adriana Pintabona, Director of Institutional Communication: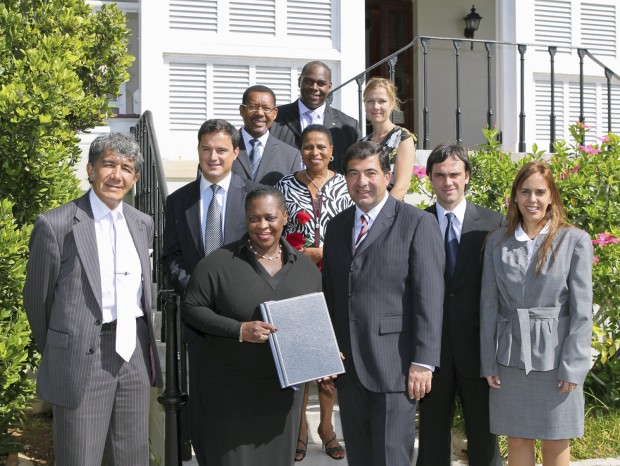 Premier Cox said, "These treaty agreements affect all of us. International business affects us all. When International Business does well we all do well."
"Though I am inking an agreement, in practical terms, the message that Bermuda is sending is that we continue to be open to business and open for business- the right business. The Argentine Republic is a crucial market particularly for our reinsurance industry.
"This treaty relationship enhances the dealings between the two countries. In fact this morning Dr. Ricardo Echegaray and I had the chance to chat about matters of mutual interest.
"Our TIEA with Mexico has recently come into force and today's TIEA with Argentina is also communicating the message that Bermuda recognises the value of opening trade relationships with the Latin American market.
"We are also communicating that diversification of the economy is not just about diversification of industries but of diversifying our strategic linkages and economic partnerships.
"Also we are saying that the Government and private sector institutions will be honest brokers in the event Bermuda's competent authority is called upon under the provisions of a TIEA to share information. So a positive on many fronts. :
Read More About