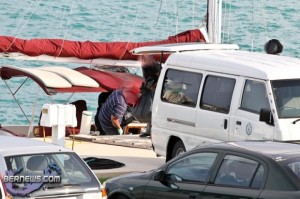 The Bermuda Police confirmed today [Aug.2] that in addition to seizing a "substantial amount" of drugs from a sailboat yesterday, they also found a firearm and ammunition on the boat.
Police said that the Latvian man they arrested had diverted to Bermuda after experiencing mechanical problems with his boat while traveling to Europe, and investigations suggest the shipment of illegal drugs was not destined for Bermuda. The 28-year-old man is expected in court in due course.
Police and Customs officers descended on McCallan's Wharf in St. George's at approximately 2pm yesterday, searching the sailboat and removing numerous bags it.
Today a police spokesperson said, "The Bermuda Police Service in conjunction with HM Customs can confirm that a 28 year old Latvian man is in police custody after a significant amount of illegal drugs, a firearm and ammunition was seized from his sailboat."
"The 28 year old man diverted to Bermuda after experiencing mechanical problems with his boat while traveling to Europe. Investigations conducted thus far suggest that this shipment of illegal drugs was not destined for Bermuda, however this seizure is another good example of cooperation between overseas law enforcement agencies as well as local agencies."
"A court appearance for the 28 year old man is expected in due course."
[Age amended from 24 to 28, police issued correction]
Read More About