HWP released a statement this evening [Aug.8] following the massive fire that saw their St Johns Road facility destroyed. At approximately 2pm flames started tearing through the building, and dozens of firefighters and police responded to the scene, spending over three hours to extinguish the blaze. The photo below depicts HWP this evening after the fire.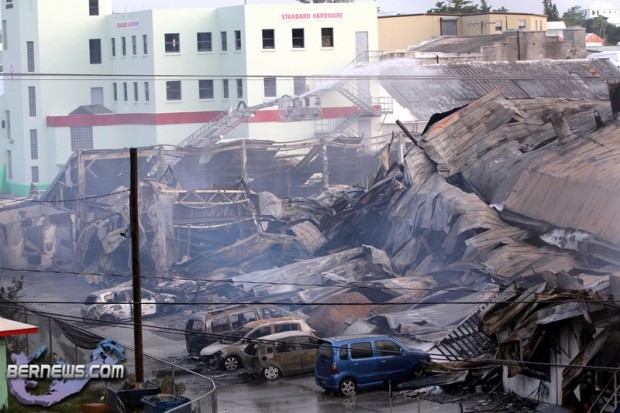 The statement follows in full below:
At around 2:00pm today (8th August), a fire broke out in the HWP Group Body & Paint Centre on St. John's Road. The building is also home to the cycle sales division automotive showrooms, and administrative offices.

The body and paint facilities, administrative infrastructure, computer, e-mail and telephone systems have been destroyed.

Jonathan Brewin, President & CEO, HWP Group commented,"Our first priority was the safety of all staff and customers and we are pleased to report that our evacuation procedure ran smoothly.

"After the safety of our staff and customers – our immediate priority is to ensure that customers who have vehicles being worked on are informed as to the status of their vehicles.

"The key message for our customers is as follows:

Customers can call 295-5000. We have set up a call centre off-site that will be staffed to handle customer inquiries. Please note this is the only number we have working at this point – please leave a voice mail if our team cannot attend your call immediately
Our e-mail capabilities are currently disabled customers can go to www.hwp.bm for updates
Most of the vehicles on the South Side of St Johns Road have been destroyed and we will be contacting customers as soon as possible
HWP will be closed Tuesday August 9th, while we assess the damage. We do not have power at the site at this time
We would ask our customers (and the public) to contact HWP rather than coming to our facilities. St Johns Road may be cordoned off/controlled by the Police for some time whilst emergency personnel continue to deal with the damaged site
We will make every effort to complete all mechanical work as soon as possible

"To our staff

We appreciate the professionalism you displayed with the evacuation
Please do not come into work until you have contacted your respective managers: Harry Andrews – 336 9104, Terry Heilbron – 336 9058, Andrew Hill – 336 9118, Marcy King – 336 9141, Tony Martin – 336 9119"

Don Mackenzie, Chairman, HWP Group added, "We are working towards to resuming normal business as soon as possible, please bear with us as we do so. Looking after our team and resolving immediate customer issues is our top priority at this time. We appreciate the support of customers and colleagues who have already reached out to us".
Read More About
Category: Accidents and fires, All, News