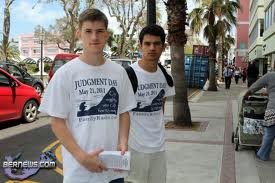 Doomsday prophet Harold Camping — whose followers descended on Bermuda [pictured] earlier this year — said this week the end of the world was nigh. Again.
And he was wrong. Again.
The American Family Radio evangelist, who famously predicted the date of Armageddon back in May, had quietly announced the real end of the world would be yesterday, Friday, October 21.
In a message on his website, Mr. Camping declared "at this point, looks like it will be the final end of everything."
But given doomsday was postponed for the second time this year, Mr. Camping is explaining it all away just as he did his May prediction mistake.  In another post on his site, Camping wrote that May 21 was the "spiritual" end of the world.
As for the massive earthquakes he has predicted as preludes to the Biblical Apocalypse , he says they have come in the form of "man-quakes," since mankind shook with fear from the Rapture and the book of Genesis describes man as made from dirt.
As part of a multi-million dollar publicity campaign sponsored by Mr. Camping and his followers, supporters of his End Times prediction visited Bermuda earlier this year to warn locals they believed the beginning of the end was almost at hand.
Almost 30 proponents of Mr. Camping's apocalyptic vision took to the streets of Hamilton, handing out leaflets and CD-ROMS to passers-by outlining the retired civil engineer's Biblical scholarship and the calculations he had used to determine the supposed date of Doomsday.
Mr. Camping previously wrote a book in 1994 which predicted the end of the world that year.
"I hurriedly wrote a book, '1994′, but I put a question mark after it," he said after the Biblical Armageddon failed to take place then.
An outspoken critic of Mr. Camping, US Southern Baptist Seminary president Albert Mohler says two Bible verses actually forbid Christians to claim the knowledge of such dates and times.
And Catherine Wessinger, who studies doomsday groups and is the editor of "The Oxford Handbook of Millennialism," told NPR that Camping is using a common trick of doomsday leaders.
When his end of the world prediction fails, she says, "the person making the prediction can give themselves a way out, sort of a backdoor way of getting out of the prediction. Or on the other hand, when nothing happens, the event can be spiritualised."
While in May Mr. Camping spoke to nearly every media outlet he could, this time he was noticeably absent from the spotlight.
The "Christian Science Monitor" reportedx that calls to Family Radio were not returned and his daughter e-mailed to say they would not be speaking to the press.
Mr. Camping also seems to have learned how to better hedge his bets this time.
"I really am beginning to think as I restudied these matters that there's going to be no big display of any kind," he said in an audio address after suffering a stroke in June. "The end is going to come very, very quietly."
Comedian Stephen Colbert, who was taking part in the Charleston Bermuda yacht race when Mr. Camping's original Judgement Day prediction did not come to pass, joked at the time: "There is a cult out there that believes the world is coming to an end on May 21, so that's one of the reasons I wanted to be out in the ocean. I'll have nothing above me and I'll fly straight up."
Read More About