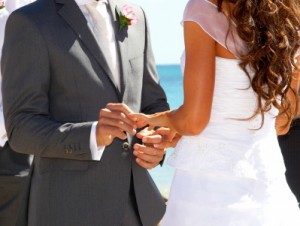 Cunard's fleet of luxury cruise vessels are being registered in Bermuda, enabling the historic shipping line to take part in the lucrative market for weddings at sea –- ceremonies which are not recognised under British law.
This means the home port — the UK port city of Southampton — of the company's three ships, "Queen Mary 2″ [pictured], "Queen Victoria" and "Queen Elizabeth", is likely to be replaced by Hamilton, the capital of Bermuda, on the vessels' sterns.
"Most of our competitors have been developing increasingly popular and lucrative weddings at sea programmes, and these are now very big business in the cruise industry," said Peter Shanks, Cunard's managing director, in a statement issued this week.
"We receive a lot of enquiries about the possibility of being married on one of our ships — particularly about weddings in the mid-Atlantic on board 'Queen Mary 2′, which no other company can offer."
Cunard said weddings aboard its ships — with the captains officiating — will be introduced start next spring.
Carnival Cruises, Cunard's US owner, has already moved its 16 Princess Cruises ships to Bermuda.
Carnival's vessels have performed weddings since 1998, when it launched its first ship with a chapel.
It has also been suggested that the decision to register Cunard's ships overseas is motivated by the desire to avoid Britain's employment laws.
The introduction of the 2010 Equality Act means that ships registered in Britain are required to pay all staff from European Union countries wages equal to those of British citizens.
Registering the ship outside the EU will allow Cunard to sidestep this law," said the UK "Daily Telegraph's" travel editor Jane Archer.
"Being able to hold money-making weddings on board is a useful spin-off, but there's little doubt Cunard has made the change so they can circumvent new UK employment laws, especially as many of their waiters and bar staff are from Eastern Europe."
Cunard was founded in 1840 and during its 171-year history the shipping line owned and operated such classic luxury liners as "Queen Mary", "Queen Elizabeth 2″ and "Mauretania".
Currently, Cunard is the only shipping company to operate a scheduled passenger service between Europe and North America.
Read More About