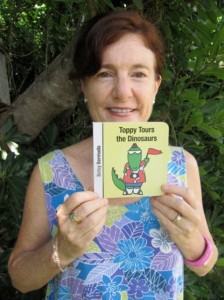 The 400-year-old links between the Bermuda and the British coastal town of Lyme Regis – birthplace of the "Sea Venture's" Admiral Sir George Somers– are celebrated in a new children's book by Bermudian artist/writer Betsy Mulderig.
The Bermudian children's author honour Bermuda's connections with Lyme Regis in her latest release "Toppy Tours the Dinosaurs", set in the West Dorset town.
Bermuda was settled by former Lyme Regis mayor Sir George when he was shipwrecked on the islands on his way to help the starving in Jamestown, Virginia, in 1609. When he later died, his heart was buried in Bermuda and his body returned to Lyme Regis and buried nearby in Whitchurch Cononicorum.
The historic link led to an official twinning between Lyme Regis and St. George's in Bermuda, which is celebrated with annual trips.
Ms Mulderigg — author of the long-running Bermudian children's book series about the adventures of Tiny The Tree Frog — introduces a new character in her latest book. In In the new volume, tourist dinosaur Toppy visits Lyme Regis' Jurassic Coast, where he discovers how he gained all of his personality traits from his ancestors.
The spectacular Jurassic Coast in Dorset and East Devon wa England's first natural World Heritage Site. This unique stretch of coastline has joined the ranks of the Great Barrier Reef and the Grand Canyon as one of the wonders of the natural world.
The site was granted its status for its outstanding geology, which represents 185 million years of earth history in just 95 miles, covering from Exmouth in East Devon to Old Harry Rocks at Studland Bay on the Dorset coast. It displays not just superb Jurassic, but older Triassic and younger Cretaceous rocks too.
"Toppy Tours the Dinosaurs" is now on sale in Lyme Regis.
It is the first book in a series that will see Toppy touring dinosaur touring children around Palma, Paris, Venice and London in the near future. Toppy will show a child various sights in different cities and teach them, as well, to speak a few words of thoset cities' languages.
Read More About
Category: All, Entertainment