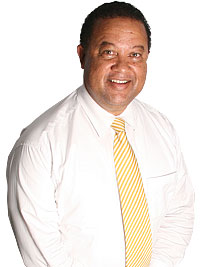 Tourism & Business Development Minister Wayne Furbert [pictured] told a Caribbean hospitality industry website he would not attempt to pre-judge how Bermuda's people would vote in a referendum to legalise casino gambling.
In a report posted yesterday [Nov.8], the newly-appointed Tourism Minister — currently conducting talks in London – said while he was personally opposed to gaming a final decision on the matter should be placed in the hands of the Bermudian people rather than politicians.
During the recent Throne Speech, it was announced Government may consider a plebiscite on the issue  as part of an overall strategy to revive Bermuda's hospitality industry.
According to the Green Paper on the subject released last year, gambling would add nearly 3,000 jobs and up to $146 million a year to Bermuda's economy.
The release of the Green Paper was followed by a debate on gaming in the House of Assembly, with only a handful of Bermuda's 36 Parliamentarians speaking in favour of relaxing the anti-gaming laws.
The only MPs to speak in favour were then-Premier Dr Ewart Brown, Zane DeSilva, Walter Lister, Michael Weeks, Mark Pettingill, Shawn Crockwell and Darius Tucker.
Mr. Furbert's Full Conversation With the Caribbean Tourism Organisation Appears Below:
WAYNE FURBERT: The country has decided to have a referendum on gaming, something which has been ticklish for a long time … split between gaming, so has always been desired…

JOHNSON JOHNROSE: By gaming, you mean casino gambling.

FURBERT: Casino gambling. You may not be aware of this, but two years ago, when honorable, the leader of the … party, put a paper to Parliament, it was defeated significantly by…

JOHNROSE: By his own Government.

FURBERT: Well, it wasn't a vote per se; it was a discussion paper, but the signals that were being sent out by the members of parliament on both sides, is that nobody wanted a casino. Bermuda's a very conservative, religious community.

As a matter of fact, I live in the Bible Belt. My constituence is the Bible Belt, so let's face it, you know how politicians are — it's very hard for me to put my hand up and say, because at the end of the day, it's cut off at the next election.

So we felt, or I feel, even when I was leader of the United Bermuda Party, is that the best way to handle this, let the people decide.

JOHNROSE: But you already know the results, don't you? It's going to be no.

FURBERT: No, I don't think so. It's interesting that you… I'm not going to pre-determine or pre-guess what the outcome will be, because I think it's going to be very close. Because what happens in… and we've had some polls done… 80 percent of the white community supports a casino, 80 percent of the black community says no, and it's because of our upbringing within our society. But the younger people within our society are much more open. Now it's not something that I personally push is a casino. I don't think that's the end all, be all, for casinos really.

JOHNROSE: I was about to ask… if left to you, you would not do it.

FURBERT: If it were left to me, it would not be, but I have no problem in a democratic society is to auction for what you would like to do.
Related Posts