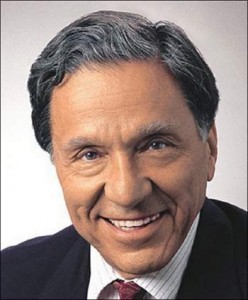 Shareholders in Bermuda-based oil-drilling giant Nabors Industries' say executive compensation practices are out of control: its board recently approved a $100 million "constructive termination" payment to its ex-CEO, an amount that "exceeds the company's third quarter 2011 profits by over $25 million."
Now shareholders have launched a US class action suit against the oil and gas company,
Nabors was founded in 1968 as Anglo Energy. The Bermuda-registered company, which operates its business out of Houston, Texas reported $3.5 billion in revenue in fiscal year 2009.
A new US federal class action says Nabors' board of directors "have wrongfully caused and allowed the company to grant excessive and improper compensation to Nabors' executive officers, particularly its chairman and former chief executive officer, defendant Eugene M. Isenberg [pictured]."
Shareholders say they have been complaining about Nabors' lavish payment practices for years, and that at the company's 2011 annual shareholder meeting more than 57 percent of the shareholders voted against its compensation programme.
"The continued grants of excessive compensation are underscored by the company's October 28, 2011 announcement that its board of directors had appointed a new CEO, and in connection therewith, Nabors would be making a 'constructive termination' payment to defendant Isenberg in the amount of $100 million, plus additional compensation, despite the fact that he is to remain with the company as chairman. Put in perspective, the payment to defendant Isenberg exceeds the company's third quarter 2011 profits by over $25 million," the complaint states.
Mr. Isenberg was Nabors' CEO from 1987 to October28 this year, and has been chairman of the board since 1987, according to the complaint.
"According to its public filings, Nabors is the largest land drilling contractor in the world and one of the largest land well-servicing and workover contractors in the United States and Canada. Recently, however, Nabors' performance has struggled as evidenced by its declining financial results over the past five years," the shareholders say.
The company reported a net profit of $975 million in 2006 and an $85 million loss in 2009, according to the complaint. Nabor's board approved the $100 million payout to Isenberg despite this poor performance, the shareholders say.
"Investor dissatisfaction with the $100 million payment to defendant Isbenberg is nothing new. Rather, for years the board has continuously and systematically ignored its shareholders with respect to the company's executive compensation practices," according to the complaint.
From 2006 to 2010 Nabors paid Isenberg more than $150 million, and its current CEO Anthony Petrello more than $75 million, the complaint states.
The class seeks damages against Nabors Chairman of the Board Eugene Isenberg, CEO Anthony Petrello, and directors William Comfort, John Lombardi, James Payne, Myron Sheinfeld, Martin Whitman and John Yearwood, for breach of fiduciary duties, corporate waste and oppressive conduct.
They seek damages from Mr. Isenberg and Mr. Petrello for unjust enrichment and excessive compensation, and wants them ordered to disgorge to the company the excessive pay they received.
The US Securities & Exchange Commission has launched a separate probe into the company's executive compensation programme.
Read More About