The Summer Camp at Somerset School of Dance is extending the age range this year and will be welcoming students between five and 12 years old.
The students will be divided into groups from junior to senior, allowing them to teach the dance classes more efficiently and provide the Senior students with more challenging/technical dance classes.
The camp will include activities such as ballet, jazz, arts and crafts, musical theatre, drama, singing and stage hair and makeup, and will be held at their Berkeley Road studio in Hamilton.
The camp session runs for two weeks and will be offered from Monday, July 2 until Friday, July 13, Monday to Friday from 9 a.m. until 2 p.m. with the studio opening at 8.45 a.m. for drop offs.
If there is sufficient interest, after-camp care will be offered until 5 p.m. at an additional cost of $30 for three hours or $15 per single hour.
The cost of camp is $500 for the two-week session with a deposit of $200 required upon registration and the remaining balance due by June 25. For more information, contact Mrs. Jayne on 292-0446 or by email at hawkins@logic.bm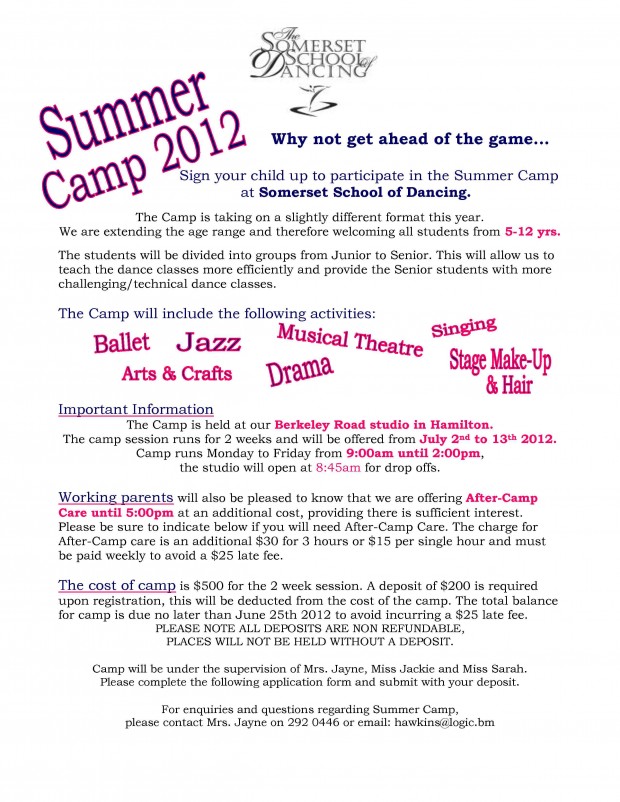 Read More About
Category: All, Entertainment