[Updated with video/full speech] Former Premier Dr Ewart Brown held a press conference this afternoon [Apr.10] at the Hamilton Princess, and said that Governor Sir Richard Gozney has failed in his duty, and has "harmed the people of Bermuda and the Government of Bermuda."
"At my request my legal team has written to the British Foreign Office setting out what we perceive as Governor Gozney's chief sins of omission and commission during his tenure," said Dr Brown.
The 17-minute video of Dr Brown's speech is below:
"It is not my purpose today to enter into the debate on whether a 21st century Bermuda should be subjected to the  paternalistic  colonial concept of having a Governor at all. For so long as we have one, however, Governor Gozney's  responsibility during this period should have been to reassure the international community," continued Dr Brown.
"He should have been stating for all the world to hear that Bermuda has necessary checks and balances to thwart  corruption and ensure good governance. And, unless and until he had incontrovertible evidence that corruption existed or until criminality had been proven, Governor Gozney should not have besmirched Bermuda's international  reputation as he has done. He was simply wrong."
Dr Brown stepped down as Premier in 2010, and kept a relatively low public profile until last month when he delivered a speech at a conference in the Cayman Islands, entitled "Is the UK-OT Relationship Based on Mutual Interests? Bermuda and the Uighurs Case Study."
"The relationship is not based on mutual interests. It is based on superiority. They would have figured out what was best for the UK, and handed down their opinion to us irrespective of our needs or wishes," said Dr Brown during his speech in the Cayman Islands.
Governor Sir Richard Gozney will leave his position next month, and the new Governor George Fergusson will take up his appointment in the same month.
Update 4.23pm: The first page of the letter is below: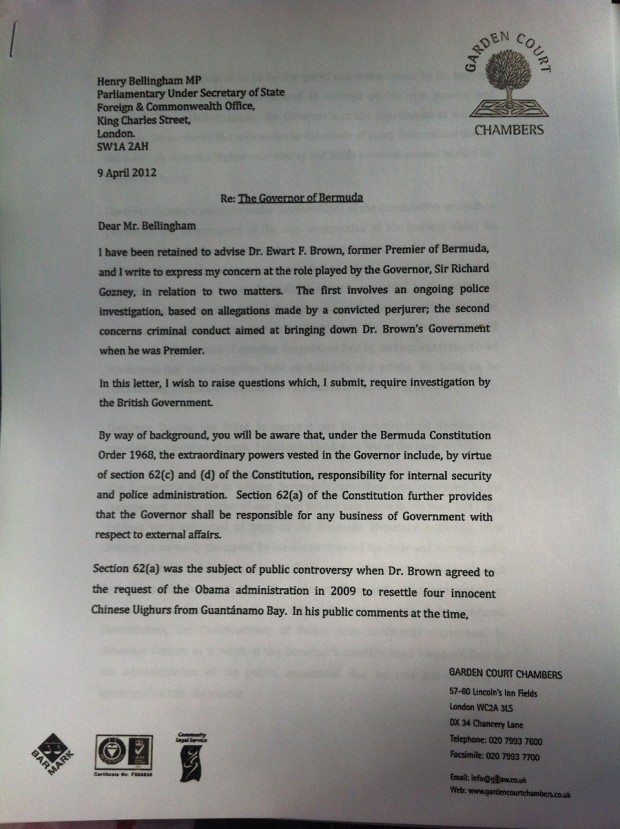 Dr Brown's full statement [PDF here] follows below:
Dr Brown's submission [PDF here] to UK MP Henry Bellingham is below:
We have requested a response from the Governor, and hope to update as able.
Read More About