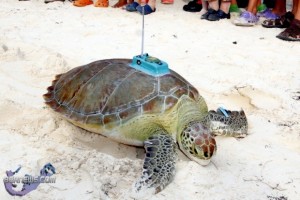 Two weeks into the "Tour de Turtles Bermuda" Catherine is in the "lead" of the pack of turtles.
The "race" got underway on August 14th, with green turtles fitted with GPS satellite transmitters setting off on their three-month tour.
The programme is designed to use satellite technology to allow scientists to discover more about sea turtle habits at sea and identify foraging and migratory patterns that may hold the key to their survival.
This knowledge helps researchers, conservationists and governing agencies make more informed decisions about sea turtle conservation methods and policies.
With as few as one out of 1,000 hatchlings surviving to adulthood, scientists are still trying to learn more about these mysterious creatures of the sea.
Catherine is presently in the "lead" having traveled 7.16km since the start of the race, Tucker is second having traveled 5.95km, while Chubby is the third with 4.48km traveled. Fripper — whose release at Clearwater we filmed — is presently in last place having traveled 1.93km.
You can follow along with the turtles on Tour de Turtles Bermuda website.
Read More About
Category: All, Environment