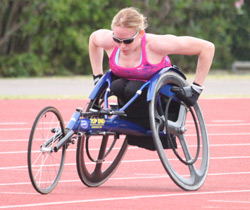 Bermuda's Jessica Lewis is hours away from the Opening Ceremony of the 2012 Paralympic Games in London and the excitement is building with every passing hour.
Speaking last night Ms Lewis said, "Ann Lindroth, President Bermuda Paralympic Association and I were up bright and early for a Chef d'Mission meeting at 7.30am to discuss the Opening Ceremonies. The meeting is held in English but there are translators for 5 other languages."
"After the Chef meeting Lindroth went to another meeting with the CANPC group. These Caribbean Countries are forming a network. The constitution was signed here yesterday and the election of officers took place today," continued Ms Lewis.
Ms Lewis went on to say, "Coach Ken Thom and I went on a tour of the route the athletes will take from the first call room to the official field of play in the Olympic Stadium. It was amazing walking through the 'tunnel' and wondering what the athletes will be thinking as they head for their races! We were not allowed into the actual stadium as it is in the hands of the top secret organizers and set up crew for the Opening Ceremony."
"While we were on the tour I was allowed on the warm up track which is right next to the Stadium and is a full 400 metre track with the same service as the Olympic Stadium. Wheelchair users love a hard track so they don't sink whereas runners like a softer track that gives. The starter of the races was there with the start gun so the athletes had turns doing starts 'under the gun'. I managed to get a good number of starts in, we later headed back to the village for a late lunch.
"Lindroth and Jeni Southern the Secretary of the Bermuda Paralympic Association took our uniform to be inspected today – Opening ceremony uniform, clothes I will wear while training and in competition and clothes I will wear daily around the venues! We cannot have any visible logos of the manufacturer on our clothing," concluded MsLewis.
Ms Lewis' mother said, "Karen Olson (Jessica's Aunt), Mark Lewis (Jessica's Dad) and Karen Thom (Coach Ken's wife and Jessica's Canadian mum!) arrived today after their over-night flight from Toronto."
The Opening Ceremony begins today and will be aired on ESPN International and streamed on Paralympic.org.
Related Posts