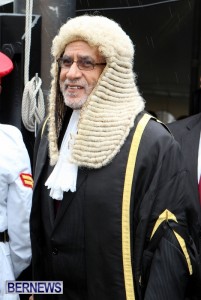 [Updated] Ending the speculation that has been swirling, PLP MP Randy Horton has been selected as the new Speaker of the House.
Mr Horton was nominated by Premier Craig Cannonier and seconded by Deputy Premier Michael Dunkley. He was elected as the new Speaker of the House, and took the oath of Speaker at about 10am this morning [Feb 8].
Mr Horton was first elected to Parliament in 1998, and was appointed Minister without Portfolio in February 2001 and Minister of Community Affairs and Sport in November of that year. In July 2003, he was appointed Minister of Labour, Home Affairs and Public Safety and in November 2006, he was appointed Minister of Education, Sports and Recreation.
Well known for his sporting accomplishments which include playing professional football, Mr. Horton has taught at both the elementary and high school levels in Bermuda, and at College level in the USA and was Principal of Warwick Secondary School for 10 years.
His selection will be deemed controversial in some circles, as it impacts the PLP's voting base in the House, which the OBA presently control by a margin of 19-17. The Speaker does not normally vote, so the selection of Mr Horton changes the margin to 19-16, while a Speaker from the OBA's side would have changed the margin to 18-17.
Mr Horton replaces Stanley Lowe [PLP], who served from 1998 until his retirement in 2012.
Update #1: Suzann Roberts-Holshouser [OBA] is the new Deputy Speaker.
Update #2: The PLP released a statement saying, "The Progressive Labour Party wishes MP Mr. K. H. Randoph Horton well in his role as Speaker of the House. We trust that he will preside over the affairs of the House of Assembly in a fair, organized, and respectful manner; one which provides both the Government and Opposition the opportunity for healthy debate on legislation and issues affecting our country."
Read More About