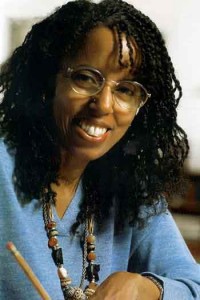 Bermudian author Angela Barry is on the shortlist for the inaugural Hollick Arvon Caribbean Writers Prize, alongside contenders from the Bahamas and Trinidad& Tobago.
A lecturer on literature at the Bermuda College as well as a writer, Ms Barry's book "Gorée: Point of Departure" recently won the Brian Burland Prize For Fiction in the 2012 Bermuda Literary Awards.
Ms Barry's first novel, "Gorée: Point of Departure" is the story of a young woman raised in England by a St. Lucian mother who travels to Senegal to reconnect with her estranged Senegalese father.
The book's title refers to the island of Gorée just off the coast of Dakar, Senegal, West Africa, which was one of the smaller of 40 departure points along the coast for enslaved Africans being shipped to the Americas and has become a popular spot for tourists trying to come to grips with the legacy of the African slave trade.
The Hollick Avron Prize, worth a total of $15,000, will give the winning regional writer time to advance a work in progress.
It includes a year's mentoring by an established author and travel to the United Kingdom to attend a one-week intensive creative writing course of their choice at Arvon.
The winning writer will also have three days in London to network with literary professionals, hosted by the UK's leading creative writing organisation, Arvon, in association with Free Word Centre and agents Rogers, Coleridge & White, and receive a cash award of $4,500.
A total of 65 writers from 13 Caribbean countries and Bermuda submitted entries for the prize.
A longlist of 14 was announced in March, and the winner will be announced at the 2013 NGC Bocas Lit Fest, which runs from 25 to 28 April in Port-of-Spain.
Read More About
Category: All, Entertainment