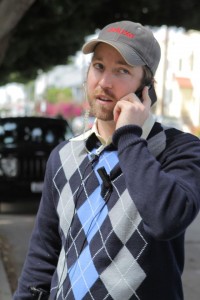 The winners of the jury and audience choice awards were announced last night [Apr. 18] at the Wrap Party of the "Sweet 16th" annual Bermuda International Film Festival [BIFF] held at Margaritas, with aspiring Bermuda movie producer Bayard Outerbridge [pictured] walking away with a prize for his American Film Institute thesis film "Machsom."
"Machsom," which premiered at BIFF during its Bermovies festival-within-a-festival at BUEI, won with a Special Jury Prize. The film, also known as "Checkpoint," tracks the daily life of a 19-year-old Israeli soldier stationed at one of West Bank's most dangerous checkpoints.
Juror Julia Loktev said "Machsom" demonstrated "an appreciation of restraint and contradiction. It addressed an important subject, which could have been easily overdone and clichéd, but the angle it took was not obvious and thought-provoking."
Mr. Outerbridge is the first Bermudian to attend the prestigious American Film Institute Conservatory's Master of Fine Arts programme; "Machsom" involved Mr. Outerbridge and fellow students Jonas Sacks, Frederic Richter, Xue [Fox] Yin and Joel Novoa taking on the cinematographic, writing, editing, directing and production chores of an original film as a thesis requirement.
The jury selected the British short film, "Indoor," as the winner of the coveted Bermuda Shorts Award from over 30 contenders, selected to screen in-competition by the BIFF programming team from over 500 entries received from all over the world. As BIFF is one of a small number of Academy Award qualifying film festivals worldwide, "Indoor" is now eligible for a Short Film – Live Action Oscar nomination in 2014.
Directed by Adam Townley and Simon Atkinson, the 15-minute film is about a young boy in a windswept seaside community encouraging a girl, who initially refuses to go outside and with good reason, to join him on a kite-flying mission. The film screened to the public as part of the Fantasia short film package at BIFF.
BIFF's Andrew Stoneham with 2013 jurors Julia Loktev and Eva Orner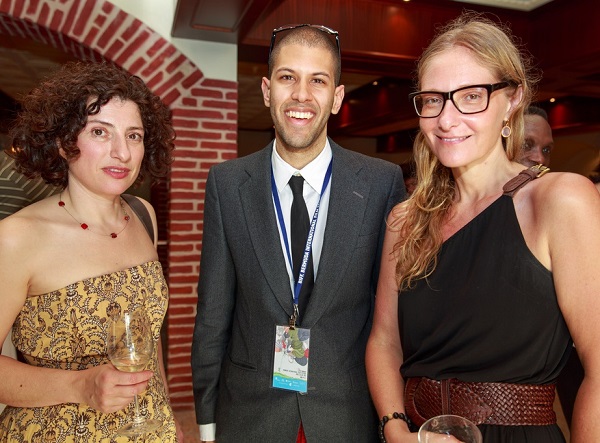 The 2013 BIFF jury comprised of Academy and Emmy award-winning documentary filmmaker, Eva Orner; multi industry award-winning feature and documentary filmmaker, Julia Loktev; and reputable independent film publicist, Susan Norget.
Lead juror, Eva Orner, said "Indoor" was a "surprising, fresh and sweet short film based on an original idea. The children's acting abilities were extraordinary. We like the fact that the film maintained its simplicity and was self-contained as many filmmakers make the mistake of trying to squeeze too much into a short. Townley and Atkinson set a definite tone and maintained it and the end result was a beautiful and complete story."
The jury also gave a Special Prize to "Brave Girl" directed by Erin Galey, which screened to the public in front of a feature at BUEI. It tells the tale of a 13-year-old Nepali girl, travelling with a family friend from her Himalyan home to her first job in the city.
Julia Loktev said: "This was an ambitious film that tackles something really significant. As it takes you on a journey, you think you know which direction it will take but then it holds back from taking a predictable corner. The acting performances were very natural and avoided melodrama."
In addition, BIFF also ran a balloting system to identify the winners of the Audience Choice Best Feature and Best Short at BIFF 2013. Audience members scored each film on a scale of one to five and the votes were counted at the conclusion of the festival.
The audience selected Closing Film, "Girl Most Likely," which screened last night at 7pm as the best feature of BIFF 2013. Starring Kristen Wiig, Annette Bening, Matt Dillon and Darren Criss from Glee, Girl Most Likely premiered at Toronto International Film Festival and is not released in the US until July so BIFF programmers were thrilled to have secured it for Bermuda audiences to see this week.
This charming comedy sees Wiig take on the role of Imogene, a special sort of underachiever, as a playwright once thought to be destined for greatness, but who has spent most of her twenties and thirties frittering away her talent and opportunities. Things can only go up from here, and they do in this wildly quirky and weirdly optimistic comic character study.
The audience voted British short, "This is Vanity," as the best short of this year's festival. The film screened to the public as part of the "Reel Britannia" short film package at BIFF.
Loosely based on a true story, it follows a young mother struggling to protect herself and her disabled teenage daughter from the constant violence and abuse from the local kids on the estate where they live.
The film's director, Oliver Goodrum, and writer, Alexander Craig, came to Bermuda to attend BIFF 2013 and participated in a Q&A session following the screening of their film.
Over 50 short, fictional features and documentaries films screened at BIFF 2013, held from April 12-18. The lineup included Oscar and Golden Globe award-winning Foreign Language film, "Amour" as well as several Cannes award winners.
Over 2,000 cinema seats were filled by BIFF during festival week. BIFF 2013 also included an education element with BIFF Kids "Books to Film" sessions attended by primary school students and the Reel Kids documentary screenings and Director's Q&A via Skype attended by local middle and high school students.
Read More About
Category: All, Entertainment, Films/Movies, News