The Bermuda J/105 Class is preparing for the inaugural Bermuda J/105 Invitational Regatta, sponsored by XL Group. Eight teams are lined up for the event to be held November 21st-23rd, 2013.
This event will bring together sailors from the USA, Canada, UK, and Bermuda to form eight teams competing for the XL Trophy [Overall Series]; the Bermuda Tourism Trophy [International Series]; and the Goslings Trophy [Bermuda Series].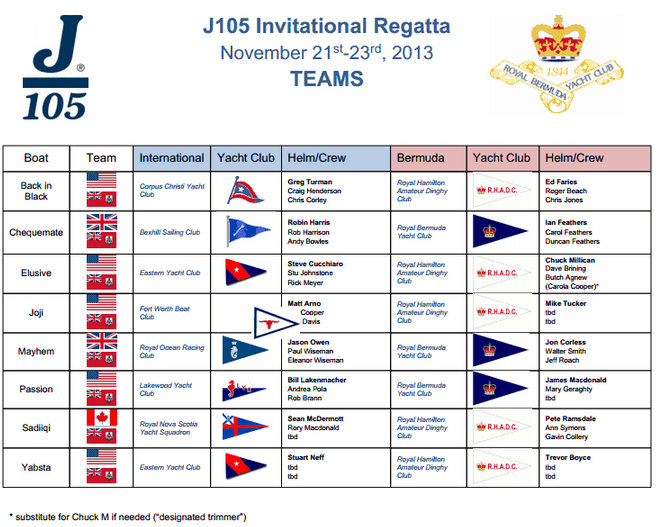 Teams are made up of 3 international sailors and 3 Bermuda sailors who will sail together in each race. Races will be designated as "Bermuda" or "International". The respective nominated helmsman shall helm for that race, and compete for either the Bermuda or International trophy, with all the team results counting towards the XL Trophy.
This is the first time this format has been used. Participation in the event was quickly fully subscribed, being limited by the number of local boats – and there is much interest for an invitation for 2014.
One of the Island's top Race Officers, Charles Tatem, will oversee the racing, and the event is hosted by the Royal Bermuda Yacht Club. Racing will take place in the Great Sound, with the first race getting underway shortly after 10am each day. A final fun race "The Last Blast" will round out the event.
Read More About