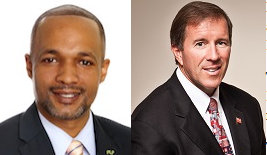 Deputy Premier and Minister of Public Safety Michael Dunkley has launched legal action against Opposition Leader Marc Bean over comments made on the social network Facebook.
The comments are understood to have been posted in late September 2013 on a political Facebook page, with the conversation initially started with a post discussing comments made by Minister Dunkley about drug testing MPs.
The comments — which appear to still be publicly accessible on Facebook –started out with Mr Bean saying the "this motion is solely the doings of Minister Dunkley [the irony]."
It went on to say, "If, the motion is about standards, then it should be based on being honourable [being honest]. That said, we should have lie detector test as a start. Lord knows we would not have a sitting Parliament."
The Opposition Leader also said MPs "are not angels, far from it," and made a number of other comments, including a reference to the video made by former Police Officer Larry Smith, in which he discussed the past case which saw two men convicted of drug charges.
In 2005, two men were jailed after being convicted of trying to smuggle drugs in through a Dunkley's container. Minister Dunkley is reported to have assisted the police in the investigation, and also served as a key prosecution witness.
After the video appeared, the police released an official statement in 2007 saying: "Contrary to a published video feed that is presently appearing on the website YouTube by ex Superintendent Larry Smith, the matters that he is referring to in the case of the Crown vs. Flood and Madeiros were fully investigated and adjudicated in a court of law and as far as the Bermuda Police Service is concerned, that matter is officially closed."
It is understood that there may have been some form of communication between the two parties about the comments prior to the legal action, and after it was not resolved, Minister Dunkley is said to have started some form of legal action for defamation, with the papers being filed a few days ago.
The Opposition has a number of lawyers among their ranks, and unofficial reports suggest Mr Bean may be receiving legal advice from within the party.
As people continue to turn more to digital communications, legal issues surrounding online and social media comments are becoming more common both around the world and in Bermuda.
Past situations involving Facebook include a police officer attempting to take action following comments made on Facebook by a leading local lawyer, and a recent court case seeing a man charged for allegedly trying to solicit young girls on Facebook.
During a Supreme Court trial for attempted murder an 84 page printout of the victim's Facebook page was produced and part of the cross examination centered on how many "friends" the victim had on Facebook.
In addition, there was the recent situation where an MP claimed her Facebook page was hacked and the police were investigating, and of course the now infamous situation where an escaped prisoner updated his Facebook while on the run.
For anyone interested in the possible legal ramifications of posting on social media, an article we posted last year [which has no direct relevance to this case or any other] offers an overview provided by a local lawyer.
Read More About