[Opinion column written by Chris Famous]
So the 3 card shuffle aka Shell Game is on and popping? Let's take a look at the recent OBA Shuffle.
Non-Ministry
Minister Leah Scott MP loses her non-ministry. Can't lose what you don't have. But then turns around and picks up Junior Education Minister quicker than one can say Nine West.
Education Ministry
Senator Nalton Brangman loses Ministry of Education. I have mixed feelings on this as it seems he was putting his all into it. He and I get at it often, but Nalton truly has the best interests of Bermudian children at heart.
I guess between hiring Dr. Heatley and losing Mr. Warren Jones, the Education Ministry was taking too much heat. Now is that Ministry back in the hands of Dr Gibbons who spearheaded the Middle School system under the UBP or is Jr Minister Leah Scott going to run it?
Kind of ironic the OBA used complain so much about the PLP changing ministers and then turn around and have had 3 Ministers of Education in less than one year.
Environment Ministry
Well I guess Hershey is having his last laugh. Just as quickly as Sylvan Richards pulled the plug on that innocent puppy's life, so too was his ministerial life pulled. I must admit this was indeed a shocker for me as I saw Minister Richards as a rising star.
Maybe it was the callous way he dealt with the dog situation or his "Black Black Blacketty Black" lyrics over the summer. I can't call it.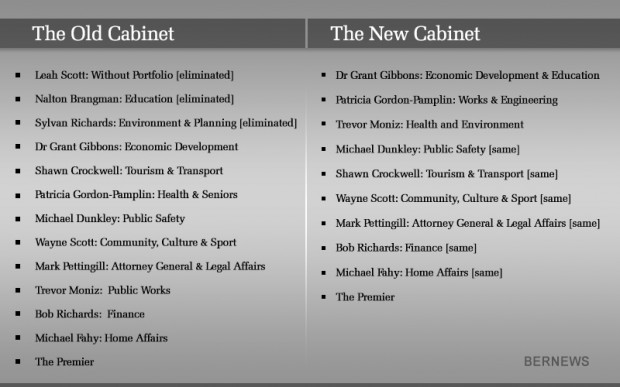 Health Ministry
So Patricia Gordon Pamplin loses her Health Ministry eh? I guess she underestimated the people of the East End. If anyone took the time to listen to her in the House of Assembly it was clear she was getting in over her head with inability to explain some of the more ludicrous directions she was going lately.
Lamb Foggo, privatization and then this requirement for persons to get board approval before they can get a cat scan.
I don't know how she will make out in the Public Works department. Leading up to the campaign she spoke some highly inflammatory words towards the BIU…."BIU is a bastardized imposter of what a union should be."
Most of the persons in that department are BIU members.
Public Works Ministry
Trevor Moniz could never come up with real figures of how many Bermudians were employed on the Heritage Wharf project or a completion date. I was up Dockyard last week and the job was still on going and over budget.
There will be interesting debates in the house. Minister Trevor Moniz vs Shadow Minister Zane DeSilva debating healthcare in Bermuda. Anyone wish to bet on the outcome?
I will set my stop watch on how long Minister Moniz will last in that post.
The UBP Lives
Well one thing is sure now, reincarnation is real. The Cabinet is all UBP born and bred. If anyone had any doubts about who is running the OBA it is clear that the UBP is in full control. Considering their back bench is full of UBP bred MPs they had next to no wiggle room in juggling ministers.
I predict the next election will be sooner than 4 years away.
- Chris Famous
Read More About